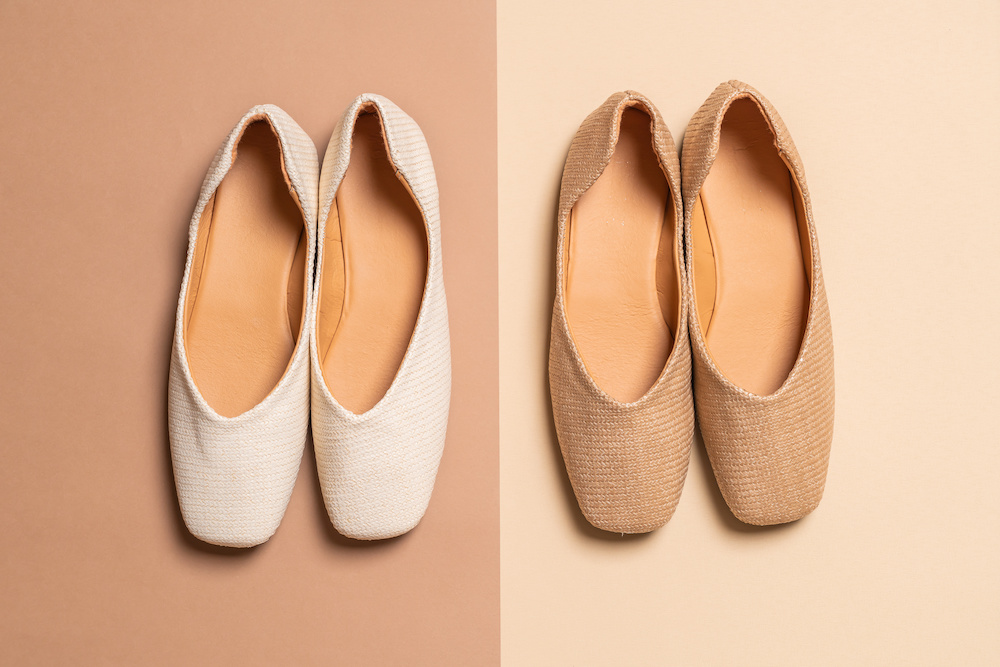 TOMS Ballet Flats Review
Depending on your lifestyle, there's a good chance that you'll find yourself having to spend hours on your feet.
Unfortunately, this can cause extreme discomfort, especially if you don't invest in the right pair of shoes.
This TOMS ballet flats review aims to show you that comfort and style can go hand-in-hand.
We'll take a close look at the brand's Jutti ballet flats and help you decide if they are the right pair for you.
About TOMS
Back in 2006, a Texan in the name of Blake Mycoskie founded TOMS, a brand known for its comfortable footwear.
Fast-forward a few years, and its product line now includes apparel, eyewear, handbags, and (surprisingly enough) coffee beans.
Perhaps what TOMS is most loved for is the fact that it donates part of its sales to various humanitarian causes.
Each product supports a different organization or project.
TOMS Ballet Flats Review
If comfort is what you're after, you will never go wrong with a pair of TOMS shoes.
The Jutti ballet flats, in particular, will ensure you have comfy shoes that you can easily match with any outfit.
Initially introduced in the market on December 11, 2016, the Jutti ballet flats exemplifies comfort and style in one.
Who Is This Product For?
These TOMS Jutti ballet flats are the perfect footwear for those looking for stylish shoes that also offer comfortability.
In fact, it is easy to see why this pair could be a staple in every woman's wardrobe.
You'll love that they have incomparable versatility, as you can pair them with almost all outfits for different occasions.
With these, you won't have to suffer from cramped toes and look effortlessly fashionable at the same time.
Women who are always on their feet, from students to supermoms, will surely benefit from wearing these Jutti flats.
What's Included?
Buying these Jutti ballet flats is pretty straightforward.
After ordering, you can expect to receive the shoes in the upper design and color that you prefer—nothing more, nothing less.
Immediately after opening the box, you can go ahead and take these shoes for a spin.
Unlike other types of footwear, these don't require breaking in much.
Instead, they will feel comfortable even when it's just the first time you wear them.
Overview of the Features
To accommodate all budgets, these Jutti ballet flats use cheap but quality materials sourced abroad.
They come in three beautiful designs, which are all slip-ons to match any outfit.
For their comfort and simple aesthetic, you can wear these shoes anywhere and on whatever occasion.
They give you a clean, casual look for the office when paired with a dress, skirt, or even slacks or jeans.
You can also wear these flats to a party or a night out when partnered with the right outfit.
If you have narrow feet, you will particularly love the pointed toe box. This design choice helps lengthen your leg.
For unmatched durability, these Jutti flats have a synthetic rubber outsole that offers impressive temperature resilience.
These ballet shoes also feature microfiber sock liners to help absorb moisture and keep it away from your feet.
As such, they can be your perfect footwear of choice during warm weather.
They allow your feet to breathe and stay fresh, even when you wear them for extended periods.
The slightly padded soft insole adds to their overall comfort, so you can wear them during days where you need to stand and walk for hours.
Finding a size that fits you perfectly won't be a problem, too, as these are available from the smallest size of five to the biggest 12.
Choose your normal size when buying these flats, and feel the shoes' comfort straight from the box.
How To Clean Ballet Flats
If you are a certified shoe lover, you probably have a collection made from different types of materials.
While that's all well and good, having such a varied collection can make it difficult to keep them all in top condition.
To help with that dilemma, here are tips for cleaning different shoe materials so that they last longer.
Fabric
All shoe creations partly use glue to keep the parts together.
Never toss your fabric shoes in the washer when it gets dirty, as they will only lessen the glue's effectiveness.
Rather, you can handwash the shoes using ordinary supplies in your kitchen.
These Jutti flats have fabric uppers. Here's how to clean them effectively:
Step 1: First, you would want to wipe away any loose dirt using a dry paper towel.
Step 2: Then, go ahead and prepare the cleaning solution. Pour two cups of warm water into a bowl and add a teaspoon of dishwashing liquid.
Step 3: Gently scrub a small portion of the fabric using an old but clean toothbrush dipped in soapy water. Make sure not to over-wet as you work on the shoes.
Step 4: Wipe the shoes with a moist paper towel to get rid of any soap residue.
Step 5: Lastly, use a dry paper towel to blot away excess water before air-drying them. Place the shoes away from heat and direct sunlight to avoid damaging the materials.
Step 6: You can also stuff the shoes with dry paper towels or old newspapers while air-drying to maintain their shape.
Leather, Faux Leather, Patent Leather
Compared to fabric, shoes made of patent, faux, or genuine leather require a different cleaning method.
First, you will want to mix equal parts of distilled white vinegar and cool water.
Dip a clean cloth in the solution and then use that to wipe the dirt from your leather shoes. Air-dry the shoes afterward.
Remove the scuffs on your leather shoes by dipping a damp clean cloth in baking soda and gently rubbing the affected area.
Use another clean cloth to wipe away the residue.
Suede
Part of suede shoes' regular maintenance is keeping them dry at all times.
Therefore, you would want to clean the surface with a soft-bristled brush after every use.
For oily stains, sprinkle the area with cornstarch and allow to sit for an hour before brushing it away.
You can repeat the process until all the oil is completely absorbed.
In case of wet stains, blotting them with a paper towel will help absorb the moisture.
Alternatives
Not sure if the TOMS Jutti ballet flats will work well with your style?
Here are other pairs you might want to consider having:
HEAWISH Ballet Flats
Like the TOMS Jutti, these HEAWISH flats boast a graceful linear design and pointed toe to give your foot a slimmer look.
The trendy mesh leopard print upper is soft and offers breathability, so your feet stay dry.
For absolute comfort, the mesh's softness and the comfortable insole will not rub on your feet and cause blisters.
The flexible Polyvinyl Chloride outsole provides portability, as it allows you to fold the shoes and stash them in your bag.
Unfortunately, the sizing seems to run small.
There's also the possibility that your feet will develop an odor when you wear these shoes for long periods.
Ataiwee Wide Flat Shoes
These Ataiwee shoes are also worth checking out.
These are a casual slip-on pair with a pointy toe and an openwork pattern made from soft leather material.
The memory foam insole is twice thicker than the average footbed, making these flats extra-comfortable.
Ladies with wider feet will especially love this pair, as its width is wider than the standard size.
What's more, the non-slip sole provides excellent grip even on wet and slippery surfaces.
You will find these flats in 13 different sizes and numerous styles, so matching them to your go-to outfits will be easy.
They will look good with skinny jeans or summer dresses.
The problem is, you might find it rather challenging to get the right fit.
Ollio Women's Ballet Flats
These Ollio flats feature faux suede uppers and a pointed-toe design that adds to their elegant style.
The soft fabric upper comes with pleated details, giving these shoes a chic appearance that will never go out of style.
Its padded insole, the jersey lining, and the durable outer sole are the reasons for these ballet shoes' all-day comfort.
Like most other flats, though, you might find it rather troublesome to get the right fit.
Conclusion
This TOMS ballet flats review proves that the brand is more focused on comfort than support, especially for its flats.
Generally speaking, ballet flats don't offer the best arch support.
If arch support is what you are after, you can check our selection of the best ballet flats with arch support.
All the same, TOMS does have some of the cutest slip-ons that flatter the feet in all the right places.
This is very much evident in the Jutti ballet flats.
They are easy to pair with any outfit, so if you do end up getting a pair, you can rest assured that you'll get your money's worth.
What's more, every purchase contributes to the company's advocacy to share its profits with the less-needy.