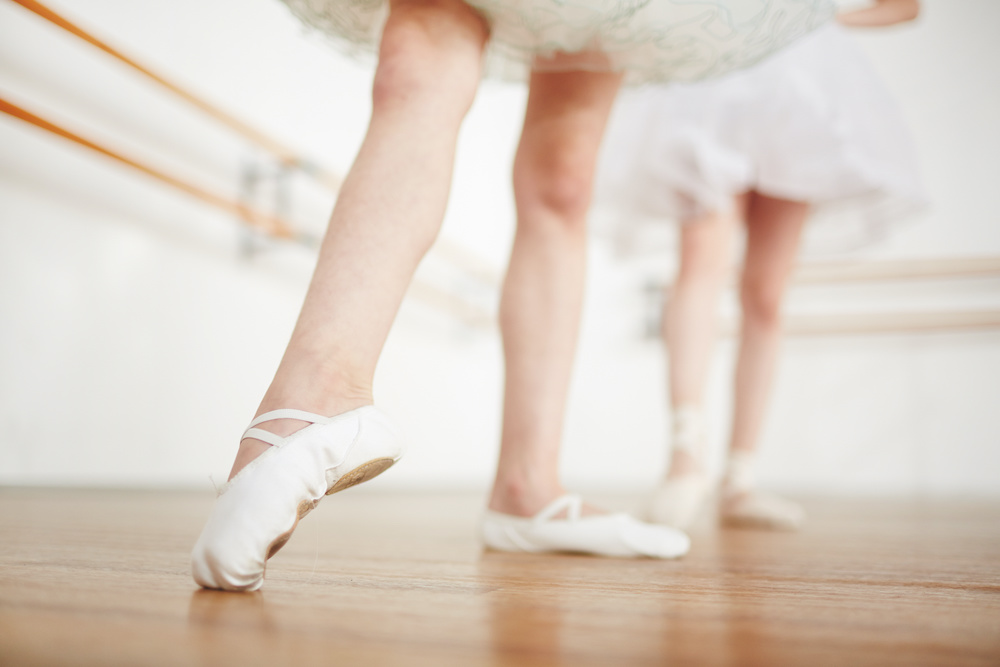 Best Ballet Shoes of 2021: Complete Reviews With Comparisons
---
<!–googleoff: index–>We may earn a commission for purchases using our links. As an Amazon Associate, we earn from qualifying purchases.<!–googleon: index–>
---
Whether you are new to ballet or have been a dancer for years, you are sure to benefit from a good-quality pair of ballet shoes.
Ballet shoes are thin and lightweight shoes meant specifically to be used by ballet dancers.
These shoes allow them to get complete freedom of movement while simultaneously ensuring their safety.
Because of how popular this dance form is, there is no shortage of these shoes on the market.
For that same reason, though, selecting a pair from a sea of choices becomes challenging.
To help you find the best ballet shoes, here are five amazing pairs to choose from.
Comparison Chart
Capezio Daisy Ballet Shoes
Danzcue White Ballet Slippers
Bloch Women's Performa Dance Shoes
STELLE Stretch Ballet Shoes
TXJ Sports Ballet Shoes
Best Ballet Shoes Reviews
1. Capezio Women's Daisy Ballet Shoes
Capezio, or Capezio Ballet Makers, Inc., is an American manufacturer of dance shoes, accessories, and apparel.
The company was founded by Salvatore Capezio in 1887, when he was only 17 years old.
Capezio opened his first store on Broadway and 39th Street, diagonally across the old Metropolitan Opera House in New York.
The store soon became a hang-out spot for dancers nearby who would stop by to buy his shoes and discuss their needs with him.
This led to Capezio being innovative with his shoes' designs, basing them on the dancers' suggestions.
This innovation is what made his company so popular and his shoes so desirable.
Product Highlights
The Capezio Ballet Shoes is a 100% leather shoe with a leather sole that ballet dancers will enjoy dancing in.
It is available in a classic ballet pink color, or you can choose between white and black.
No doubt, this pair is among the best ballet shoes for adults and kids alike.
In terms of sizing, it is available in women's sizes and four different toddler sizes.
What we like here particularly is that the sizes for women are available in regular, narrow, and wide options; sizing runs from three to 10.
The overall construction is quite impressive, too. Capezio has made the upper of the shoe from soft and comfortable leather.
This allows dancers to perform for hours at a stretch while providing them with brilliant support and total confidence.
If that's not enough, the shoe also features a full chrome tanned suede leather outsole.
This further enhances the shoe's durability and offers a generous cut that gives the feet ample freedom of movement without ever pinching or squeezing.
Young ballet dancers will love the cute and fun daisy print cotton lining and sock lining.
However, those looking for plain designs can opt for the black or white pair with a unisex non-print lining.
The shoe comes with a bar-tacked elastic drawstring.
This will hug the foot to provide the dancer with the perfect fit they are looking for and further offer additional elegance.
What We Like
There's a lot we like about these ballet shoes.
For starters, it is extremely comfortable and can be used for hours on end. It does not pinch or squeeze the toes either.
A drawstring makes it hug the foot for a more perfect fit and provide it with a touch of elegance.
Lastly, the overall material is great as it is made from high-quality leather and suede.
What We Do Not Like
Despite the plethora of size options, we found that the shoe does not run true to size.
We recommend trying a size above or below your regular shoe size.
2. Danzcue Canvas Ballet Slipper
Danzcue is a brand that only manufactures products related to dancing.
They sell their creations online only and are known for their wide range of product options.
The company's product line ranges from ballet shoes to jazz shoes to ballet wrap skirts and even leotards.
One of the reasons this brand is so popular is its highly reasonable prices for its stunning quality and shoe designs.
You can be assured that any product from this brand will be worth every penny.
Product Highlights
These Danzcue ballet slippers are a great choice for those looking for excellent quality without breaking the bank.
Like other high-quality ballet shoes, the sole is made of leather.
This makes the shoe not only highly durable but also comfortable to wear for extended periods.
Furthermore, the sole excellently resists wear and slip.
The shoe comes with a superior canvas upper that is smooth and soft.
In addition to being comfortable, the canvas makes the shoe easier to clean and helps maintain its overall shape while keeping it breathable and absorbent.
The shoe comes with a classic round head design, which makes it look exquisite.
There are double pre-sewn adjustable crisscross straps, too.
These elastic cords are stitched on the upper part of the shoe and do a brilliant job making the shoe fit better on your feet.
If that's not enough, Danzcue has also included drawstrings.
This thin string can be adjusted as per your comfort and fit preference. The tiny bow you add in the end makes the shoe look cute.
The brand offers these ballet shoes in three different and elegant colors.
You can choose from the classic white and black or pick the peach/pink colored pair ideal for light-skinned dancers.
Size-wise, the shoe is available in sizes running from 3.5 to 11.
The company does state that their shoes are not the same size as regular shoes.
They are supposed to fit close to the foot, so they recommend picking a pair that is either half or one size lower than your regular size.
What We Like
The best thing about this shoe is how reasonably priced it is despite the excellent materials used to make it.
We like that you can choose between three classic colors, too.
The pre-sewn cross elastic straps are an interesting addition to the shoe.
Lastly, the canvas upper with cotton lining does a great job keeping the shoe comfortable and easy to maintain.
What We Do Not Like
We found too much fabric gathered at the soles of the shoe.
Unfortunately, this can prove to be a hindrance during the performance.
3. Bloch Ballet Shoe/Slipper
Bloch was founded by Jacob Bloch. He created the brand as a promise to a young dancer to make her a better pair of pointe shoes to dance in.
The shoe became popular almost overnight, and more and more dancers wanted it, thus making Bloch well-known and sought after.
In the present day, the company has a reputation as one of the most trusted in the industry.
Now they sell different types of products, like apparel and footwear for adults and kids.
Very recently, Bloch has entered an exciting new period of innovation and fashion design.
This is apparent in the creation of mainstream footwear due to the customers' demands to make street-ready apparel.
Product Highlights
If you know a pair of ballet shoes comes from one of the world's most prestigious shoemakers, then you can be sure that that pair is one of the best.
This ballet shoe is lightweight, comfortable, and has a stretch canvas split sole.
An interesting feature of this shoe is its toe shape.
It has been designed specifically to provide the ballet dancer with the ultimate balance.
Furthermore, it also looks very clean and elegant.
However, there is one thing about the shoe that we like a lot, and that is the color options.
There are altogether four different colors you can choose from, but two of those colors are dark brown and light brown.
These can be categorized as nude colors, too.
While they may not perfectly match everyone's skin tone, light skin and dark skin ballet dancers can take advantage of them to wear a shoe close to their skin color.
Other than that, you can always opt for the classic theatrical pink pair or the white pair.
The shoe's design adheres to the foot's arch beautifully, making it look as if it is just an extension of you.
The shoes also feature a shock-absorbing cushion that keeps the feet away from any harm.
Lastly, the shoe comes with pre-sewn crossed elastics and generous front and rear leather split sole pads.
What We Like
There's a lot to like about the shoe.
For instance, we love the color options and the design, mostly how it adheres to the foot's arch.
We also like that the shoe features shock-absorbing cushions and pre-sewn elastics on the front.
What We Do Not Like
The only gripe we have with this shoe is that the pre-sewn elastic straps can be too tight, especially if you have broader feet.
4. Stelle Ballet Shoes
Stelle, meaning Star, is an American company based in the San Francisco Bay Area.
The company was founded by a mother of three girls.
At the root of the company is a mother who loves art and dancing and wanted more from the products she was using on her young children.
The company only makes exceptional quality products by partnering with the best and ethical factories worldwide.
Product Highlights
The Stelle Ballet Shoes are the quintessential flat shoes for a ballet dancer to practice and perform.
The shoe makes use of a high-stretch canvas upper, which hugs the foot extremely well.
The split sole design allows the shoe to easily bend and even move with the dancer.
To keep the foot in place, the shoes feature pre-sewn elastic bands instead of a drawstring.
This helps keep the foot in place much better than other regular ballet shoes.
The shoe has a thicker and broader forefoot outsole pad shape.
It protects the foot's surface and the Achilles tendon and even allows the dancer to spread their toes out for stability.
These ballet shoes come in classic colors, such as tan, black, and ballet pick, which will match your aesthetic perfectly.
The shoe sizing runs from four to 10. We recommend buying a size up if you are a man or boy or have broader feet.
What We Like
The Stelle Ballet Shoe is beautifully designed, adhering to the foot's arch and offering the ultimate balance.
The breathable fabric allows dancers to use the shoes for hours, too.
Lastly, the three color choices are simply fantastic.
What We Do Not Like
Unfortunately, the shoe does not run true to size.
5. TXJ Sports Ballet Shoes
TXJ Sports is a brand that sells dance shoes on online shopping platforms. It is known for its affordable and good-quality products.
This pair of ballet shoes comes with some exciting features, which we will briefly talk about below.
Product Highlights
The TXJ Sports Ballet Shoes use a canvas upper and are available in sizes for adults and toddlers.
The sole is made using a non-slip leather, which is wear-resistant and flexible.
There are crisscross pre-sewn elastic bands that do an excellent job of keeping the feet secured.
Those planning on dancing in the shoe for hours will truly appreciate the cotton lining.
This not only makes the shoe comfortable but also sweat-absorbent.
In terms of colors, the shoe is available in three different options, which include classic black, regular pink, and light pink.
What We Like
This is a simple ballet shoe that is built well and affordable.
We like that it comes with a cotton lining that makes it more comfortable.
What We Do Not Like
We found that there is too much material on the side of the shoe, which makes it a tad bit uncomfortable.
Buyer's Guide
As you can see, you have plenty of choices when it comes to shoes for ballet.
Now that you have read these detailed reviews of the best overall ballet slippers, we are sure you are trying to decide which pair you should be selecting. If you have a toddler and need guidance for choosing ballet slippers for them as well, check out our guide best ballet shoes for toddlers.
For those still confused about which pair perfectly fits their needs, take a look at our detailed buyer's guide below.
Here, we will cover all the crucial aspects of a good pair of ballet shoes so that you can make an informed decision.
1. Fit
Fit is a very important factor in any good ballet shoes.
It should fit like a glove or a sock without any extra material or puckers that pinch anywhere around.
Your shoe also should not be too tight or binding so that it curls the toes inside or squeezes the ball of the foot.
Having a properly fitted ballet shoe is even more critical for an individual learning the dance form.
A well-fitted shoe will ensure you have a proper form and stance and will also allow your teacher to know whether you're doing it correctly or not.
A conforming fit will let you "feel" the dance floor with your feet when learning proper ballet techniques.
Unless you are dancing on bare feet, a properly fitted pair is also important because you are still working on your balance and other fundamental skills.
Additionally, it encourages good foot alignment, as well.
The earlier you learn proper placement with your well-fitted shoes, the lesser the chances of injury you will sustain to your ankles and knees as you progress further.
2. Material
Ballet shoes are typically made from one of these three materials: satin, leather, or canvas.
Among all of them, satin is probably the prettiest, and the shoe looks genuinely impressive.
However, it is not wise to pick a pair just based on its looks.
The most durable pair of ballet shoes will be typically made from leather, but good-quality leather shoes can be a bit expensive.
A great middle-ground is to choose ballet shoes made from canvas.
This material is mostly cheaper than leather and tends to be far more durable and long-lasting than satin.
If you are thinking about which one of these materials you should be choosing, we recommend either leather or canvas.
That said, we lean more towards the latter because seasoned ballet dancers prefer using canvas ballet shoes since it adheres to their feet's shape.
Using the best canvas ballet shoes right from the start will help you get used to it quickly, and it's better in the long run, too.
3. Color
While the color depends on your preference and what the brand offers, pink and black ballet shoes are available in almost every brand.
We recommend picking a color as per your instructor's wishes for uniformity in the classroom.
Some ballet schools need their students to have a uniform look.
It helps the ballet teacher scan the room easily and ensure that all the students are learning and performing all the moves the right way.
4. Sole
The sole of every ballet shoe is very important.
They are meant to provide you with protection for your feet and prevent you from slipping.
You must look for ballet shoes that come with anti-slip and anti-skid features.
This will ensure that no matter how much you twirl and jump around, you will remain safe on the dance floor.
5. Price
In general, shoes for ballet tend to be among the least expensive types of dance shoes on the market.
Hence, don't expect to shell out anything more than $50 for a good pair.
You may be tempted to buy a cheap pair of ballet shoes, but we don't recommend doing so.
Cheap options may not provide you with the support needed to practice.
6. Toe Pads
When looking for ballet shoes, preferably look for ones that feature toe pads.
These pads help keep your toes comfortable throughout any dance routine or when you are dancing in them for extended periods.
7. Elastic Straps
Choose ballet shoes that come with pre-sewn straps, preferably in a crisscross pattern.
These elastic bands should be tight enough so that they secure your foot properly.
At the same time, make sure that they are not too tight that it ends up hurting you.
Ballet Shoes FAQs
1. Can ballerinas stand on their toes without pointe shoes?
While ballerinas can stand on their toes without pointe shoes, it is not advisable that you do it.
This is because pointe shoes are made to encase your toes and support your foot when en pointe.
Without the shoe, you greatly risk injury to your toes and foot.
2. Why do ballerinas sew their shoes?
Ballerinas sew band and ribbons either on the inside or on the exterior to make the shoe fit better.
Also, they do this so that the foot is more secured inside the shoe while they perform.
In turn, doing so helps lower the risks of injuries related to ballet.
3. Should I buy ballet shoes a size bigger?
No, you shouldn't buy ballet shoes one size bigger.
In fact, you should consider buying a size smaller unless stated otherwise by the brand.
This is because most ballet shoes tend to run a size smaller than regular shoe sizes.
They are meant to hug your feet tightly to provide it with comfort and support, so make sure yours fit perfectly.
4. Do ballet slippers have left right?
No, ballet slippers can be worn on any leg, just like socks.
5. Should you wear socks with ballet shoes?
As mentioned earlier, ballet shoes are as thin as socks.
There is no way you can even fit a pair of socks inside a pair of ballet shoes.
Hence, you shouldn't wear socks with them.
Final Verdict
Having the best ballet shoes will ensure you are learning the dance form correctly and keeping injury at bay.
The five ballet shoes we have reviewed above are some of the best ones on the market right now.
Irrespective of what you choose, they all will help you perform fabulously.
However, if we had to pick one among all of them, our choice would definitely be the Capezio Ballet Shoes.
The pair comes from one of the most reputed ballet shoe brands on the market.
It is made using premium materials, and the design is simply exquisite. We are sure that you would like it, too.