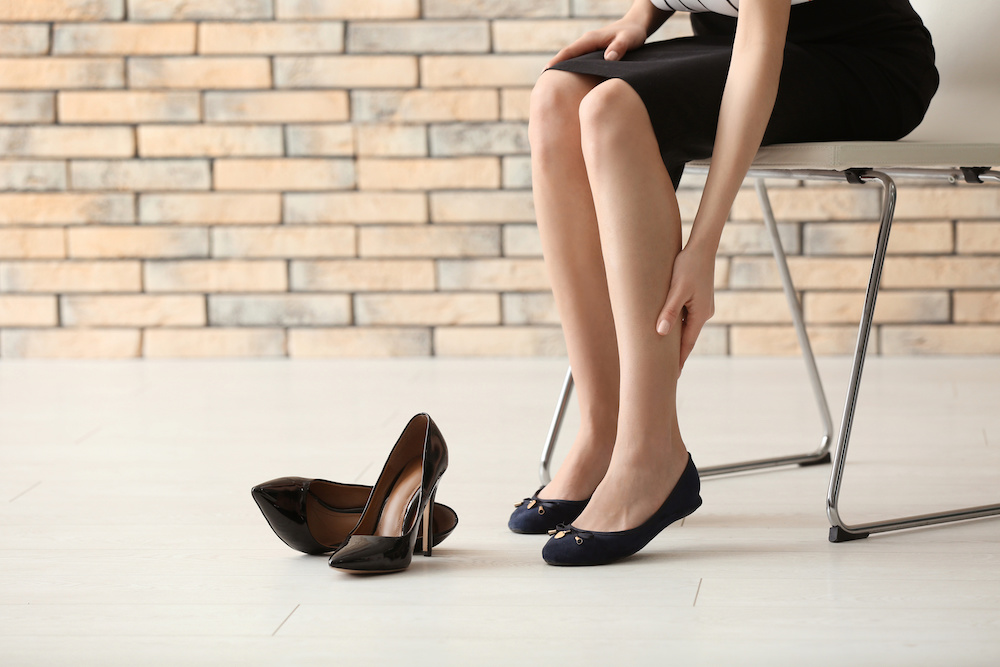 Coach Ballet Flats Review
Living a fast-paced life in this modern world requires comfortable shoes.
Can you think of any kind of footwear more comfortable than ballet flats?
With these on, you don't have to worry about heels getting stuck in holes and grates.
Then again, you shouldn't have to compromise your style for comfort, and this is what this Coach ballet flats review will prove to you.
For the price you pay, you can rest in the fact that these shoes' versatility and convenience will see you through many years of service.
About Coach
As a family-run workshop in New York City, Coach began its journey in the fashion industry back in 1941.
Back then, the workshop only had six craftsmen working with one goal in mind: creating beautiful yet functional products made from leather.
Being one of the first manufacturers in the leather goods and accessories industry, Coach became known as the Original American House of Leather.
Its 75 years of rich heritage and experience give it the edge to innovate unique designs that exude modern luxury.
Coach Ballet Flats Review
One of the brand's most comfortable footwear is the Stanton ballet flats.
It first came out in the market in September 2018 and has been a well-loved pair of ballet flats worldwide since then.
These versatile Stanton flats will easily add a touch of luxury to any outfit in all kinds of events.
Will they work well with your personal style, though?
Who Is This Product For?
If you are looking for comfortable footwear, the Stanton ballet flats from Coach are an excellent choice.
They combine the simplicity of casual flats and the luxurious look of Coach shoes, making it possible to wear them anytime and anywhere.
At first glance, no one can deny that they come with an air of elegance to which Coach is known for.
When it comes to practicality, the shoes' lightness and comfort make them suitable for driving.
Anyone who wants to have different footwear styles would love Coach Stanton's wide range of colors and designs.
Whether you need shoes for the office, dinner dates, or just for strolling around, these Stanton flats will fit the bill.
What's Included?
You will receive one pair of Stanton ballet flats with Coach's signature buckle and shoe dust bag upon purchase.
The shoes and a care manual are neatly packed inside a black box, which features a brown ribbon and the brand's name written on top.
The box is then placed inside a black paper bag with Coach written on it.
Overview of the Features
Coach is a luxury brand with a higher price point than others because it only uses premium quality materials for all its products.
What exactly can you get from this pair of simple-looking flats?
You can easily dress up your casual, everyday looks or complement your chic date-night outfits with these Stanton leather ballet flats.
At first glance, you will immediately notice that they come with a soft and durable leather upper, finished up with Coach's signature buckle accent in gold.
The round-toe slip-on design is paired with an elasticized topline that wraps around your feet to secure a perfect fit.
With soft lining and padded leather insole, you are guaranteed to experience excellent comfort while wearing these ballet flats.
In addition, the rubber outsole provides great slip resistance, allowing you to walk even on slippery surfaces safely.
This outsole's flexibility lets you fold up the shoes and insert them in the dust bag, too, making them great travel companions.
These Stanton ballet flats also sport a one-fourth-inch micro heel to protect the soles from thinning too quickly.
The shoes are true to size but may need some breaking in for them to mold to the exact shape of your feet.
How To Get the Most Out of Leather Ballet Flats
Women's leather shoes provide breathability, comfort, and durability that are hard to find from other footwear.
However, you would only be able to enjoy these benefits longer if you know how to care for them.
Here, we'll share with you how to clean leather shoes as well as keep them free of any odors.
Cleaning Leather Flats
Thankfully, contrary to what others might think, leather shoes are easy to clean and maintain.
As hard as you try to, you can't avoid getting dirt on your leather flats every time you go outside.
When this happens, all you need to do is grab a clean, soft cloth, baking soda, and a small amount of water.
Once you have everything needed, simply follow these steps.
Step 1: First, wipe the dirt off your flats using a dry cloth. Then, moisten it with just the right amount of water.
Step 2: Once damp, use the same cloth to wipe your shoes again with a little moisture.
Step 3: Rinse the cloth to remove the accumulated dirt from your shoes. Ensure that there's no excess water left.
Step 4: Sprinkle baking soda on the damp cloth and use it to wipe your shoes again.
Step 5: Rinse the cloth again and wipe it on your leather flats one last time, completely removing the baking soda residue.
Step 6: Lastly, allow your ballet flats to air-dry at room temperature, away from heat or sunlight.
Keeping Leather Flats Stink-Free
There are plenty of reasons why your leather shoes would stink, including sweat, bacteria, and other foot problems.
Thankfully, you can keep them fresh and odor-free using things readily available inside your house.
Baking Soda
Baking soda is an all-around household item you can always rely on, especially concerning odor.
When you can't stand the smell of your shoes, try sprinkling a liberal amount of baking soda inside and let the powder sit overnight.
Remove the powder the next day, wiping out the excess. By then, you should be able to enjoy odor-free footwear.
There's also a non-messy trick for you to try using the same product.
Get some old socks, fill the toes with baking soda, and tie them up.
You then place these reusable deodorizers inside your shoes at night and remove them in the morning.
Essential Oils
Put a few drops of your favorite essential oil on a tissue or a piece of paper and put it in your shoes overnight.
The smell of the essential oil will provide a refreshing scent to your shoes.
Black Teabags
There's a compound in black tea called tannin that will remove the bad smell and kill bacteria simultaneously.
To start, simply soak the tea bag for two to three minutes in boiling water.
Then remove it from the water and allow it to cool completely.
This natural deodorizer can freshen up your footwear after an hour of placing it inside.
Baby Powder
If your feet tend to sweat a lot, sprinkle some baby powder before you slip them inside your shoes.
Alternatives
If you think these Coach Stanton flats don't match your personal style, that's okay.
Because of how comfy and practical they are to use, you will find a plethora of ballet flats both online and in physical stores.
The key is finding the pair that fits your every preference.
To give you more options, here are other excellent choices you might want to consider:
Tory Burch Minnie Travel Ballet Flats
The Tory Burch Minnie Travel ballet flats are a round-toed slip-on pair of shoes with an elastic back for a secure and comfortable fit.
Prominently placed on top of the leather upper is Tory Burch's logo medallion in gold or solid tone.
In addition to its quality craftsmanship is the cushioned footbed that offers excellent comfortability.
Similarly, the split rubber outsole gives way to its flexible construction, making it easy to fold for portability.
The Tory Burch Minnie ballet flats are available in different colors, sizes, prints, and textures to match your style.
Although it's excellent footwear for travels, it's not suitable for long walks due to lack of arch support.
Hxlber Ballet Flats
If you want a more affordable alternative, check out these Hxlber ballet flats for women.
They are cute square-toed ballet flats made from imported fiber upper with a beautiful golden metal accent on the vamp.
These simple yet fashionable ballet shoes also come with a low-cut slip-on design for easy on and off fit.
If you are looking for stable support while walking, this footwear's soft insoles will mold to your feet's shape.
Moreover, the premium-quality rubber outsole offers anti-slip properties, protecting you from any slipping incidents.
The rubber outsole also comes with a micro heel measuring 0.39 inches for added comfort and extra support.
Are Coach Ballet Flats Worth It?
Nothing can beat Coach shoes' quality when it comes to leather footwear. After all, it is the Original American House of Leather.
This Coach ballet flats review shows that this luxury brand deserves its title.
What's more impressive is how it maintained the quality of its creation throughout the years, as seen in the Stanton ballet flats.
A comfortable pair of ballet flats may be hard to come by, but you can trust these Stanton shoes to give your money's worth.