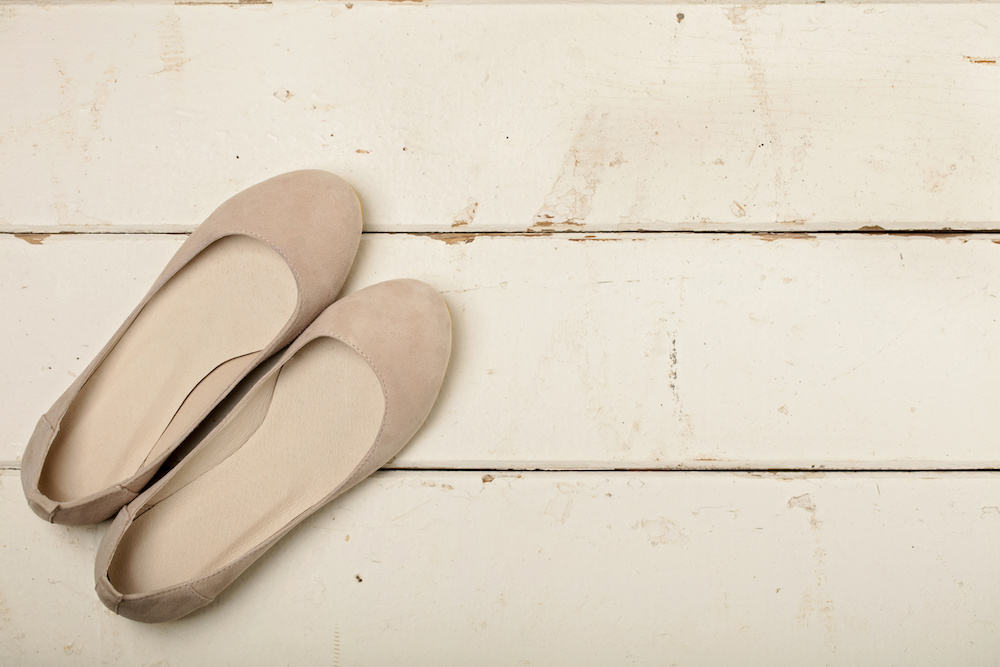 Clarks Ballet Flats Review
In case you don't know yet, ballet flats are this year's must-have shoes.
If yours are looking a little worn out, now is as good a time as any to invest in some new ones.
This Clarks ballet flats review will take a close look at the brand's perforated leather, espadrille-style shoes named Danelly Adira.
For a pair that will get you through the warmer season, find out if these shoes fit the bill.
About the Brand
C&J Clarks was first established in a rural English village back in 1825 when Cyrus and James Clark used sheepskin offcuts to make their first slipper.
Today, the brand is a world-renowned manufacturer of a wide range of footwear for the whole family.
Innovation and excellent craftsmanship are at the heart of everything C&J Clarks do.
This is very much evident in its high-quality, modern, and affordable shoes, such as the Danelly Adira.
Clarks Ballet Flats Review
The Danelly Adira is an adorable pair of ballet flats that will add a fun and flirty twist to all your favorite summer outfits.
It combines the comfort of a slip-on shoe with the support that Clarks has long been famous for.
Who Is This Product For?
This pair would be ideal for anyone looking for light and airy closed-toe shoes perfect for summer.
Also, some jobs require wearing closed-toe shoes to work. Thankfully, the naturally breathable construction of these shoes answers that need.
Available in a broad range of sizes and widths, those who struggle with finding perfect-fitting shoes won't have problems with this pair.
If you don't particularly enjoy wearing sandals, these shoes are the perfect alternative.
They will also be particularly well-suited to you if comfort is high on your list of priorities when it comes to footwear.
Unlike other flats, these offer a level of support to keep you comfy throughout the day.
Though not the most affordable, you will find that investing in these shoes are more than worth it.
Unfortunately, they are not suitable for vegans or anyone with an aversion to leather products.
What's Included?
You'll receive your Clarks Danelly Adira nicely wrapped inside a stiff cardboard shoebox to protect the shoes in transit.
Inside each shoe, you will find a padded Clarks Cushion Soft insole, which you can remove easily as per your preference.
Overview of the Features
Before we get into the pros and cons of these shoes, allow us to list and talk about each of their most impressive features first.
Convenient Slip-On Design
The first thing you will notice and love about these shoes is their easy slip-on design.
As you probably already know, slip-on shoes like this are so convenient to have next to the front door.
For one, you don't have any zips or laces to fiddle with.
In fact, you won't even need to bend over and hold the heel back because your feet will just slide straight in.
The hassle-free design of these shoes lets you literally slide them on in mere seconds.
This is ideal if you often find yourself having to run out the door in a flash or simply need something to wear when taking the garbage out.
Another feature that makes these shoes more convenient is that you can wash them by hand when needed.
Many shoes require professional cleaning, but this pair lets you save some money by letting you do it yourself at home.
Cute Espadrille Summer Style
It's impossible to ignore how cute these shoes are. They pair well with summer dresses and skirts and look great with jeans and a simple t-shirt.
The innovative design combines the cute shape of the ballet flats with the summer style of espadrilles.
The upper has a perforated design available in six colors. It also has a jute wrapping that lends a relaxed feel to the overall style.
The perforated upper also means that these shoes are naturally breathable, keeping your feet dry and fresh all day.
These shoes are probably as close to sandals as you can get without actually being sandals.
The shoes are lightweight and flexible, too. They won't weigh you down and make a great pair for traveling.
Because they are light, they won't take up much of your precious luggage weight.
The versatility of this shoe also means you can pack this one pair instead of three separate pairs, saving you even more space.
Plus, their softness and flexibility mean you don't have to worry about squashing them in your suitcase and ruining their shape.
Clarks offers these shoes in so many different sizes that you should be able to find your perfect fit.
In total, these Danelly Adiras are available in 24 different sizes, from a US size five through to a size 12.
They cater for half sizes, and you can also choose between narrow, standard, and wide shoe widths.
There aren't too many narrow options, though.
Supportive and Comfortable
It can be quite difficult to find cute ballet flats that offer any sort of arch support at all.
Thankfully, these Clarks ballet flats offer pretty decent arch support with their Cushion Soft padded insole.
Clark's Cushion Soft technology uses high-rebound memory foam to help absorb the impact of each step.
The inlay is a plush eight-millimeter thick, making these shoes comfortable to wear all day long.
What's even more impressive is that these insoles are also removable.
If you have specific needs for your podiatric care, you can just take these out and replace them with your own.
High-Quality Durable Materials
As expected from the Clarks brand, the materials used in the construction of this shoe are highly durable.
As such, you can expect them to last you for several years if you look after them properly.
The upper part of the shoe is made from 100% leather.
You will also find that the durable rubber sole is textured, which means it has good traction on slippery or wet surfaces.
How To Get the Most Out of It
Like any shoes, all you have to do to get the most out of your Danelly Adiras is simply to wear them all the time.
You won't have any problems doing this, too. These shoes are so versatile that you can literally wear them with any outfit.
Whether for work or play, they will help level up or tone down your overall look.
You would also want to include them on your packing list to go on your next holiday.
To ensure they stay in good condition, spray them with a waterproofing and stain-resistant protective solution before you wear them.
Check that this spray is specially made for leather products.
After wearing them for the day, it will also help if you keep the leather moisturized by investing in a good leather polish.
If you wear the shoes frequently, apply the polish every one or two months or when you notice that the leather starts to look dull.
Doing this regularly protects your ballet shoes from the elements so that you can make use of them even longer.
Alternative
To make this Clarks ballet flats review as objective as possible, we compared them to a similar pair of ballet flats by Aerosoles.
Their similarities lie in their flat shape, perforated upper detail, and memory foam comfort and support.
In our opinion, the espadrille-inspired design is prettier.
But we also understand that this style isn't for everyone, so the Aerosoles pair is a great alternative.
You will notice that there is not much price difference between the two, which is why you might be surprised to find that the Aerosoles shoes have synthetic uppers.
This is great news for vegans, but not so great for the comfort and durability of the shoes.
Compared to what you will see on the Aerosoles shoes, the perforations on the Clarks shoes are also nicer-looking, with greater attention to detail.
They have a mosaic-like pattern of small diamonds and circles, whereas the Aerosoles perforations are just small dotted holes.
To be fair, though, we are forcing ourselves to nitpick about finer details.
Even with the synthetic upper and simpler overall look, these Aerosoles shoes really are great quality and very comfortable flats.
Like the Danelly Adiras, they would also be great for holidays and traveling because they are lightweight and flexible.
Conclusion
As mentioned, if you don't like the espadrille-inspired design, the Aerosoles shoes will be much more suitable for you.
If we are to choose between the two, though, we would still go with the Danelly Adiras.
They are not the cheapest shoes around, but with their high-quality materials and solid construction, they will last you for years to come.
They are cute, comfortable and will offer an effortless, fun, and flirty edge to any summer outfit.
These shoes are also available in plenty of sizes, so finding the perfect fit won't be too difficult.