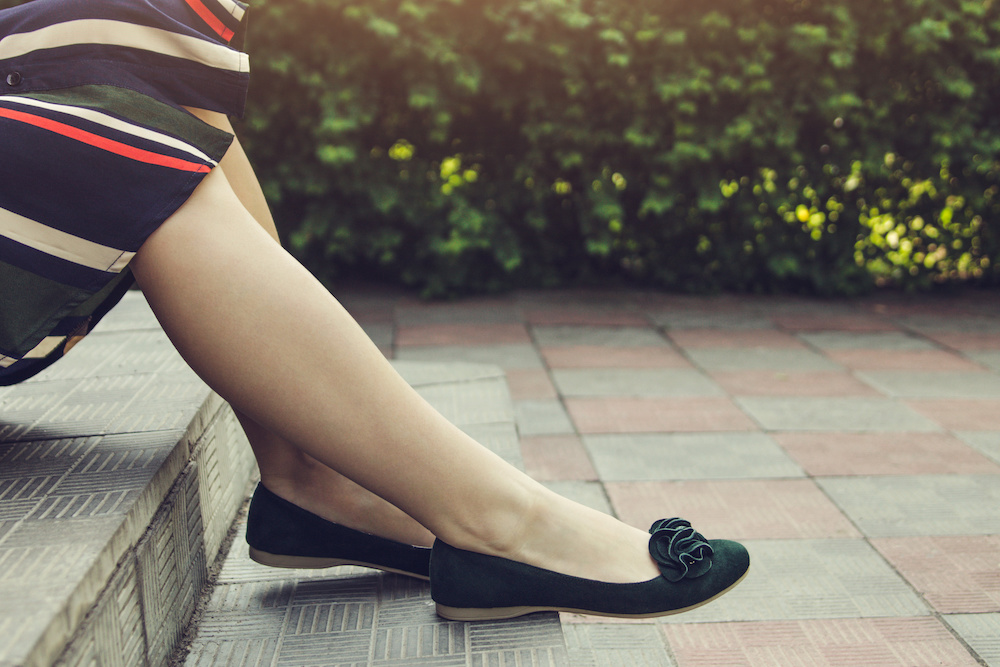 Yosi Samra Ballet Flats Review
Ballet flats are one of the most practical shoes around, which is why women like having a few different pairs in their shoe cabinets.
Investing in a variety of colors and patterns of ballet flats can be pricey if you choose a high-end shoe.
Today's Yosi Samra ballet flats review will show you how you can use a mid-range pair of ballet flats to fill out your closet.
It doesn't have to take a large investment to get those ballet flats you need to match a new work outfit.
Instead, you can stick to shoes that won't break the bank or fall apart when you wear them for the first time.
are an affordable, well-fitted pair of ballet flats that come in a few different color options.
Made from leather, these mid-range shoes strike the perfect balance between price and durability for many people.
Who Is This Product For?
The Yosi Samra Ballet Flats are a great choice for anyone looking for a comfortable pair of shoes.
What's more, you can be sure it won't fall apart even after a couple of wears.
That's a common problem seen with low-end ballet flats, but these shoes from Yosi Samra do not have that issue.
They are also an excellent choice for anyone who wants to have a few different color options, including a few unique ones, to choose from.
These shoes are not great for those looking for a luxury-brand shoe, but they should not be misinterpreted as messy.
In fact, these are a great pair of shoes with a very fashionable and functional design.
What's Included?
Nothing is included as an additional accessory with these shoes.
Yosi Samra Ballet Flats Review
The Yosi Samra Ballet Flats
Overview of the Features
The Yosi Samra ballet flats are a pair of 100% leather shoes with a lightly padded insole for great comfort.
Here are other impressive features worth noting:
The back of these shoes has an elasticized band that keeps them in place all day long.
The elasticized part will pull tight around the back of your ankle, making sure the shoe stays on.
Consider if you like shoes with this type of design, though.
The elastic around this area will break-in over time, which can be a good or a bad thing for your feet, depending on the fit you choose.
Ultimately, the elastic helps to keep the shoes in place while you walk.
Since these shoes are so lightweight, they are an excellent choice for everyday wear or for travel.
Ballet shoes are a great option for travel because they have a simple, neutral design that can work for casual and formal occasions.
These shoes can comfortably carry you through either type of event.
These shoes are soft, supple, and flexible, a combination that ensures they feel great on your feet from day one.
This softness to the design makes them move with you easily while walking, but it can lead to a decrease in durability.
Since the sole is flexible, it may wear out a bit faster if it bends a lot.
That being said, it is very easy to resole to extend their lifetime.
How To Style Your Ballet Flats
As you've seen in this Yosi Samra ballet flats review, one of this pair's primary features is how great it is for filling out your closet.
Whether you plan to travel with one or two pairs of these flats or get a few colors to match different outfits, you need to think about how to style them.
Styling classic ballet flats isn't hard to do, but it can be fun to come up with some unique and interesting ways to wear these shoes.
Make the most of your ballet flats by experimenting with the style choices you make while wearing these shoes.
1. Try Them With Socks
One way many people do not consider wearing their ballet flats is to style them with socks.
While this styling tip works best for fall and winter, you can do it at any time by varying the thickness of your sock.
This gives you a chance to accessorize your outfit further.
And, as we all very well know, there's nothing more fashionable than being well-accessorized.
Plus, wearing the shoes with socks adds a layer of comfort and padding for your feet.
2. Up the Print
Another great way to make your ballet flats feel like a more significant fashion statement is to choose a bold, textured print rather than just solid leather.
Bold prints can go a long way in pulling your outfit together and making it stand out.
Luxe textures, like snakeskin, can do wonders for a look.
3. Add Emblems
These shoes are quite simple in their design, but that's not a bad thing.
Still, some people like their shoes to have some type of emblem on them, such as a buckle.
Did you know you can easily add this to ballet flats?
Rather than paying more for a pair of ballet flats that feature an emblem, head to the craft store instead.
There, look through the jewelry and buckle sections to see what catches your eye, and then attach it to your shoes with flexible glue or by sewing.
In the end, you'll have a totally unique shoe that really wows others.
Alternatives
Do you think these Yosi Samra ballet flats might not be the right choice for your needs?
Give the Clarks Women's Gracelin Jenny Ballet Flats a look.
These ballet shoes are a great choice for those looking for a shoe with a heavier focus on comfort and durability than the Yosi Samra flats.
If you're ready to go all-in on a luxury shoe, check out the Repetto Women's Cendrillon Flats.
These are a high-end pair of flats that is fashionable yet simple at the same time.
The Best Flats for Your Feet
Ballet flats are a great staple in the closet of many.
After all, there is no doubt that their classic design can work with many different looks.
These Yosi Samra Ballet Flats continue to be a great option for anyone looking for a mid-range shoe to add to their closet.
The balance of fashion, fit, and durability that these shoes offer is a good match for women of varying ages and personal styles.
Of course, that doesn't mean they will be right for everyone.
If you want to make sure you up the comfort and durability just a little more and have room in your budget, consider the Clarks Women's Gracelin Jenny Ballet Flats.
In the end, as long as you make an informed choice about which ballet flats will carry you to the best look, you will be happy with whatever you decide to get.