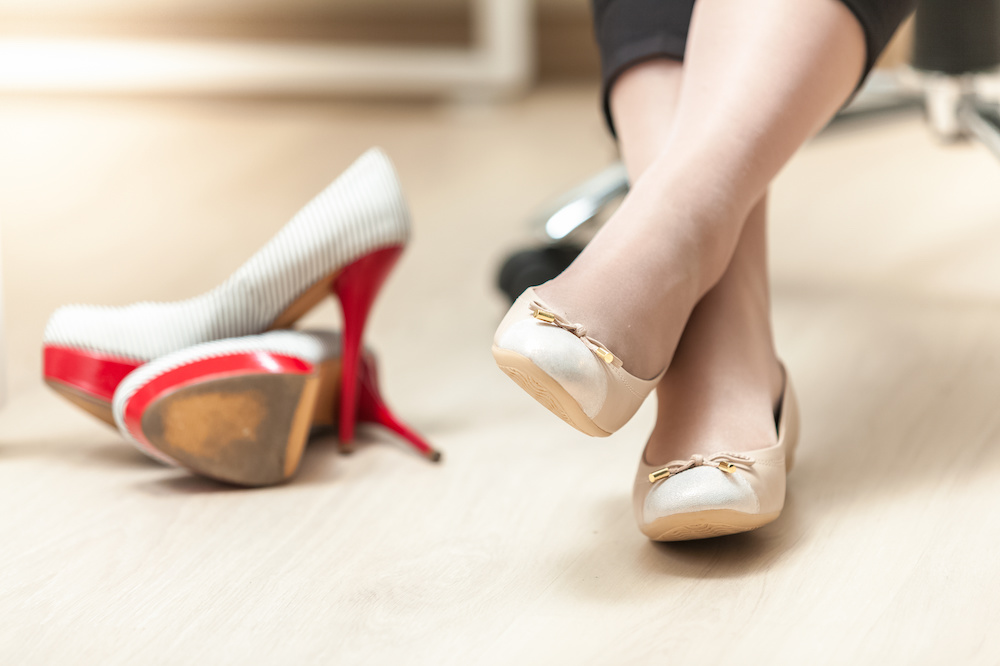 Michael Kors Ballet Flats Review
Ballet flats first rose to fame in the 1940s and have been dipping in and out of the fashion headlines ever since.
If you haven't heard yet, they re-appeared on the catwalk again this year.
As a result, the demand for comfortable, stylish shoes in this style has recently exploded.
In this Michael Kors ballet flats review, we take a close look at the Fulton Moccasins to see what they have to offer.
About Michael Kors
Michael Kors established his namesake company back in 1981.
Soon after, it became a world-renowned designer brand of footwear, clothing, and accessories.
He's celebrated for his innate sense of glamor and sports-luxe aesthetic and has created an affordable luxury lifestyle brand with a global reach.
You can find Michael Kors' award-winning designs in some of the most prestigious cities in the world, including New York, London, Paris, Milan, and Tokyo.
Like other luxury brands, Michael Kors collection pieces are highly sought after for their timeless appeal.
Michael Kors Ballet Flats Review
First released in 2004, these Fulton Mocs are insanely popular among both teenage girls and working women.
These moccasin-inspired ballet flats are a perfect blend of classic and contemporary and are ideal for city or suburban life.
They add a timeless chic style to most outfits and are suitable for work and play.
Do they sound like a pair of shoes you need in your collection?
Who Is This Product For?
Because of their relatively high price, these ballet flats are most suited to people with a bigger budget.
If you are looking for a quality pair of flats that will last for seasons to come, then these moccasin-inspired ballet flats might just be them.
However, if you are on more of a budget, you will find plenty of other options available for you.
Due to the lack of choice regarding sizes, these Michael Kors ballet flats are only suitable for those with US size seven through nine feet.
And they would not be a good choice for people with wide feet at all, as they are quite narrow shoes.
What's Included?
These ballet flats will be delivered in a shoebox, as expected.
However, the package does not include a duster bag like many other Michael Kors products.
They come with cardboard inserts to help the shoes retain their perfect shape until they arrive.
There is also a silica gel packet to protect them from moisture.
Overview of the Features
Impressively enough, this style came out nearly 20 years ago under the MICHAEL Michael Kors collection but is still turning heads today.
Let's jump straight in and take a look at the luxury features you can expect from this pair.
The signature design of these flats will make them a closet staple for years to come, as they won't ever go out of fashion.
They look like a cross between a classic ballet flat and a modern moccasin, with a bold oversized metal MK logo on the front of the toe.
This instantly recognizable logo will mean that the vast majority of people you meet will know your shoes are from a designer brand.
The stitching detail and the metal hardware logo offer a distinctly luxurious feel to the shoes.
If these shoes were to have a heel, they would be more formal.
However, their flat shape plants them firmly within smart-casual attire, making them perfect for work and play.
The front part of the upper features a U-shaped vamp with bold seam lines, which is where the shoe is reminiscent of moccasins.
This blend of classic and contemporary adds to their timeless appeal.
With the right correct choices, they will add a chic touch to most warm-weather outfits.
They will look cute and classy with cut-off pants, as well as long skirts and dresses.
However, you should expect to show a small amount of toe cleavage with these shoes, or more if you have longer toes.
High-Quality Pigskin Leather Upper
As expected from a luxury designer, these Michael Kors shoes are made from high-quality materials that won't wear out as quickly as others.
The uppers of the black ballet flats boast a 100% pigskin leather construction.
The brown, vanilla, and pink varieties are also made from leather but are covered with MK signature fabric.
Pigskin leather is particularly loose, spongy, and breathable, making it an ideal material for shoes.
The shoes are highly durable but also soft and pliable, which means they will be extremely comfortable to wear.
Keep in mind that pigskin leather does require some maintenance. As such, you would need to have these shoes professionally cleaned when necessary.
Thick Inner, Soft Lining, and Rubber Sole
The inner sole is thick and comfortable and offers moderate arch support.
As you probably know, to find any arch support at all in ballet flat shoes is already a feat on its own.
This support will help them stay comfortable after more prolonged wear, with less stress on your spine, knees, and hips.
The shoes also feature synthetic lining that feels soft and cozy to slip your feet into.
Plus, the rubber sole on the bottom of the shoes helps add traction, so you don't slip when you're wearing them.
Unfortunately, these shoes are only available in very limited sizes.
You can buy them in a US size seven through nine, and not all the sizes are available in all four colors, which is a shame.
However, if you are one of the lucky ones with a size match, you can expect these shoes to fit true to size.
Buying true to size is always great, as it means you don't have to bother messing around with returns.
Plus, you get to wear your new shoes sooner rather than later.
Before ordering, you should be aware that these shoes, as with all Michael Kors shoes, are slightly narrow.
They will work fine for people with average or narrow feet, but if yours are even slightly on the wider side, you may find that the toes pinch.
It's unfortunate that these shoes will only suit a small number of people because of the limited size options.
Still, you'll feel even more special if that's you.
How To Get the Most Out of It
To get the most out of these Michael Kors ballet flats, you need to make sure you look after them properly.
If possible, you should try not to wear these shoes in heavy rain.
Pigskin leather, like most types of leather, can be damaged when exposed to excessive moisture.
Before wearing them, we recommend applying a water- and stain-resistant protective spray to the fabric-covered shoes.
If you have the leather variety, you can polish them to help keep them moisturized.
When the shoes need to be cleaned, you should always have the cleaning done by a professional.
Finally, when you're not wearing your Fulton Mocs, we recommend you place shoe trees in them so that they retain their shape.
Afterward, keep them in their box with a pack of silica gel to keep moisture at bay.
Storing these shoes in their box also protects them from sun damage, which could fade their color.
Alternative
To make this Michael Kors ballet flats review more objective, we decided to compare them to another designer brand shoes with a similar design.
Of the many choices available, these ballet flats from Tory Burch quickly caught our eye.
Although they don't share the same moccasin-inspired features, they do carry a bold metal logo.
Yet again, the signature design of these Tory Burch flats will ensure they stay in style for years to come.
Compared to the MK flats, you will be pleased to know that these shoes are available in more colors.
They also have sizes to fit a US size five through nine.
The problem is, the sizes do run around half a size too small, so you should bear that in mind when ordering.
As expected, these shoes are beautifully made using high-quality materials, with a leather upper and non-slip rubber sole.
They are also comfortable to wear and will add a gorgeous and luxurious finish to almost any outfit.
The main downside is that they are more than double the price of the Michael Kors shoes.
Conclusion
Between the Tory Burch and the Michael Kors shoes, the Fulton Moccasins are, in our opinion, the nicer pair.
They both offer timeless style, but the extra detail at the front of the Michael Kors shoes makes them unique and original.
The quality and comfort offered by both pairs of shoes are roughly the same.
However, with the Tory Burch shoes being more than twice the price, we would prefer the Michael Kors flats any day.
Ultimately, you will either be able to order a pair in your size or not.
And if you are, you can rest assured that these shoes will last you for many years.