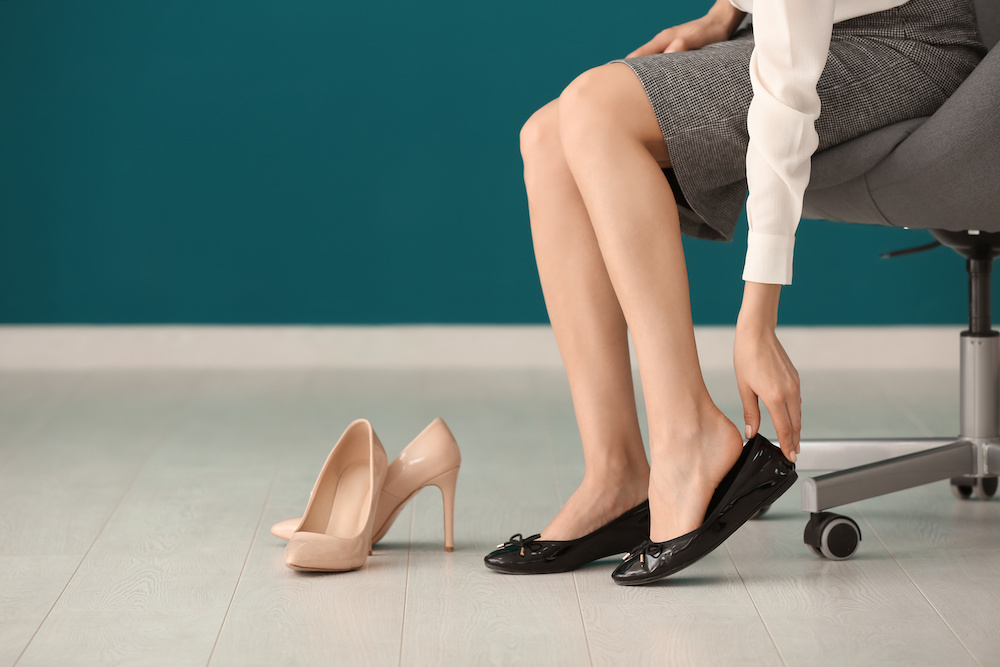 Chanel Ballet Flats Review
If there's one brand that has mastered classy fashion, it's Chanel.
The Parisian haute couture company has a rich history of producing beautiful and elegant clothing, shoes, and jewelry that aren't merely things but collectibles.
This Chanel Ballet Flats review will cover the iconic Chanel two-tone ballerina flats, a pair of shoes that have long been ladies' favorite.
Is it truly worth the hefty price tag? We'll find out.
Ballerina flats, inspired by ballet shoes, have a similar shape.
However, these are your regular pumps with a rigid sole, unlike the ballet shoes that serve a particular purpose.
Chanel Ballet Flats Review
Chanel Two-Tone Ballerina Flats is part of the extensive collection by the house.
Going as far back as the days when Coco Chanel herself helmed the company, these flat, closed-toe shoes have been a constant in their catalog ever since the first shoes were released.
While the exact date of their release isn't clear, it's considered that the iconic slingbacks resulted in the creation of these ballerina flats.
Although, ballerina flats' style and design go back to the 16th century when Parisian women started wearing flat shoes similar to the ballerinas.
Rosetto Repetto designed the original ballerina flats for movie star Bridget Bardot.
Chanel's ballerina flats came somewhere in the late 50s and were made popular by Audrey Hepburn.
So you can imagine how rich a history these shoes have.
What's even more interesting is that they've largely remained the same over the many decades.
Who Are These Flats For?
As a flat pair of shoes, the Chanel Two-Tone Ballerina Flats is designed to be as comfortable as possible.
These shoes are somewhat conservative if you will, but then again, they have signature Coco Chanel influence, which makes them all the more elegant.
Thus, these flats are ideal for any woman who appreciates finer things in life and values comfort when it comes to shoes.
These are iconic shoes that are instantly recognizable, so these also serve as a strong fashion statement.
As a working woman, you can use the Chanel Two-Tone Ballerina Flats for both work and evening events.
Even young women can wear these with jeans and dresses, so they are ideal for any woman.
These do come at a price since they are designer shoes, so they are not a good option for those looking for something affordable.
What's Included?
Chanel Two-Tone Ballerina Flats come nicely packed in a black box that's simple but also sturdy.
There's a fabric pouch for each shoe with the Chanel logo that closes with a drawstring.
This allows you to store each shoe separately when traveling or even in your closet.
It also includes a small booklet with care information.
The box isn't really fancy, but it does have a lot of paper inserts, so shoes stay safe within the box while in transit.
You can check out the reveal of a beautiful pair of Chanel ballerina flats in this video.
Overview of Features
If the shoes have been worn by the likes of Victoria Beckham and Penelope Cruz, they are worth checking out in detail.
Let's talk about what you'd expect from these Chanel Flats, from the materials to the design to give you a better idea.
The Chanel Two-Tone Ballerina Flats typically use lambskin and grosgrain for the upper. However, some styles may also use calfskin leather and fabrics like tweed and cotton.
The quality of the leather is truly premium, as it comes mainly from within Europe.
Additionally, the upper is laminated to give it a lustrous finish, the kind you'd find with patented leather but still not as shiny.
That also makes the shoes sturdier, protecting them from dust and moisture over the years.
Much like ballet shoes, even the sole and heel of these ballerina flats are made of high-quality leather.
It makes them super lightweight, as opposed to the flats made with wooden heels or rubber soles.
The sole, although not the sturdiest, does last long, especially if properly taken care of.
The Chanel Two-Tone Ballerina Flats' heel is merely 0.4 inches, but some variants have one-inch high heels too.
These are closed-toe shoes with a round toe box. The toe cap typically has a darker shade like black in the two-tone design, with the rest of the shoe in the second tone.
The toe cap is decorated with the double-C logo of the Chanel brand. It's basically raised with stitching in matching thread.
The front of the shoe opening also has a bow-tie detailing with a narrow string.
As for the shape and fit of the shoe, it's pretty standard. The opening of the shoe has a piping edge, but it isn't elastic.
This design has stayed the same ever since the shoes first surfaced. Although there are many color variations, the design is the same for both two-tone and solid colors.
There are endless color combinations in Chanel's ballerina flats, including two-tone ones.
The most classic is the nude and black ones, which actually came out in the 90s.
There are many choices for you to choose from, including both simpler combinations and some really striking ones.
Cleaning and Restoration Tutorial
Chanel clothes and shoes are generally passed down from one generation to another.
If you're wondering how to clean your Chanel Two-Tone Ballerina Flats or even restore a damaged pair, all you need is some tools and a lot of patience.
This tutorial shows a detailed restoration process of these iconic women's shoes.
Alternatives
If Chanel's two-tone ballerina flats are too expensive for you, or perhaps you want something more practical, you can consider these two alternative flats options.
Jessica Simpson Mandalaye Ballet Flats
The Mandalaye ballet flats by Jessica Simpson are more like pointe ballet shoes with a flat toe cap.
Also, they differ from the Chanel ones significantly, whether it's the design or the materials.
For instance, these flats also feature wide-crossed elastic straps around the ankles, adding more support.
With a synthetic sole, these are definitely more practical and ideal for everyday use.
Their price is also significantly lower than what it would cost you to get your hands on Chanel shoes, including the classic ballerina flats.
However, these are more basic and have a very simple construction. Also, most of the variants are monotone, with some offering prints.
Chanel's ballerina flats are decidedly more elegant than the Jessica Simpson Mandalaye Ballet Flats.
Shoes 18 Classic Ballerina Flats
These flats have a somewhat similar silhouette to the Chanel flats. Both the upper and sole are synthetic, which makes them more affordable.
If two-tone isn't for you, their solid colors will keep you happy. You have loads of color options, both light and dark shades.
They are ideal for both everyday use and special occasions like weddings and parties.
Unlike Chanel shoes, you can wear them anywhere you like without worrying about damaging something pricey.
Conclusion
After reading this Chanel Ballet Flats review, you're probably convinced that investing in a two-tone ballerina flats pair is probably a good deal.
If you can afford them, then why not? They are versatile, sophisticated, and, most importantly, simply beautiful.
You can wear them with a variety of outfits, and they'll never go out of fashion because they are timeless.
That said, if you don't want to spend hundreds of dollars, you can find similar alternatives that look good and do the same job.