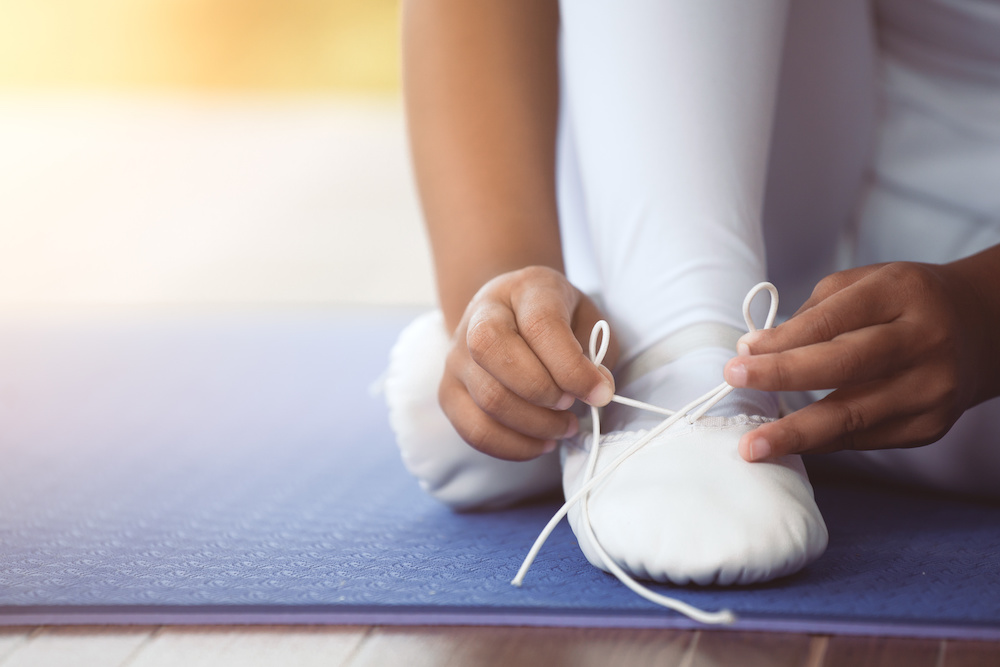 Capezio Ballet Shoes Review
Used across the globe, ballet shoes give dancers the freedom to move without restrictions and ensure they are safe while they do so.
These are typically thin and light, but perhaps the more important factor is their fit.
You will find a plethora of options on the market, which is why it can be hard to find the right pair.
If you are having a hard time looking for the right pair either for you or for your kid, this Capezio ballet shoes review has got you covered.
About Capezio
Capezio, or Capezio Ballet Makers Inc., is an American company specializing in making dance shoes, accessories, and apparel.
To get to know the brand better, let's take a look at its history.
Salvatore Capezio, an Italian cobbler, emigrated to America in 1887 and opened a shoe repair shop near the old Metropolitan Opera House in New York City.
He started his shoe repair business by mending theatrical shoes for the MET.
After creating a pair of shoes for Polish tenor Jean de Reszke in an emergency, he transitioned from a cobbler to a shoemaker.
This project also led to his shop becoming popular, often seen as the meeting place where dancers gather and talk about shoes.
Over time, Capezio's reputation grew, and more dancers visited his shop to buy shoes. One of those happened to be Anna Pavlova.
Back in 1910, during her first tour in the US, Pavlova bought her shoes and her entire company's shoes from Capezio.
This helped the brand establish an even wider public visibility. And the rest, as they say, is history.
Capezio Ballet Shoes Review
These Capezio ballet shoes are available in sizes for toddlers and adults.
While you can buy a pair for your child as she learns ballet, you have to keep in mind a couple of things.
Children vary greatly in terms of their motor skill development, musculoskeletal maturity, and mental maturity.
Not every 12-year-old is ready to dance on pointe, but in some cases, a child as young as nine can be ready.
Hence, when thinking of buying these ballet shoes, consider the child's mental and physical capabilities rather than age and number of years in training.
Who Is the Capezio Ballet Shoe For?
Capezio ballet shoes are ideal for adults who have been in this practice for years.
Beginners can benefit from them, too, but we recommend taking your ballet teacher's advice before picking out the right size.
First, a ballet teacher will ask you to do several functional tests to determine whether you should even wear pointe shoes or begin with ballet slippers.
Only after you have demonstrated proper skill and technique, control, balance, and flexibility can you graduate to wearing pointe shoes.
If you wear these shoes and try ballet dancing without proper training, you can end up injuring yourself.
Ballet is an art form that requires you to build strength in your foot and have perfect coordination.
Often, this would require years of training.
What's in the Box?
Buying a pair of ballet shoes from a high-end brand like Capezio means expecting to get the most value out of your investment.
In that case, what exactly will you receive if you do order these shoes?
These Capezio ballet shoes arrive in a beautiful cardboard shoebox.
This is not something extraordinary, but we appreciate that the shoes themselves are wrapped in plastic.
The plastic wrapping ensures they do not topple inside the box during transit.
As a result, they arrive at your doorstep without any unnecessary scratches and tears.
Overview of the Features
With the Capezio Daisy Ballet Shoes on, you can comfortably and boldly step up to the barre and do your routine.
They are an ideal option for beginners who have a broader foot but also work well for experienced dancers.
With their combined features, you will love spending every minute dancing in these shoes.
Stylish Yet Functional Construction
This shoe lets you choose between a simple design or a playful daisy-patterned lining.
There is also a unisex option in bold colors to accommodate a larger group of ballet dancers with different styles.
To ensure a snug and secure fit, these Daisy shoes come with a full sole and a pre-attached criss-cross elastic.
These shoes have a lightly padded footbed along with a split suede sole that offers outstanding flexibility.
Sizing is the most important aspect of any good ballet shoe, which should fit tight but not so much that it becomes uncomfortable.
We found that the Capezio ballet shoe is available in a plethora of sizes, starting from size three and going up to size 10.
There is a 0.5 increment in between each of these sizes.
What truly sets this shoe apart from the rest is that every size is further available in three different variations.
You can choose between a regular fit, a narrow fit, or a wide fit.
Because of this, Capezio was able to ensure that the shoe fits the foot of every single dancer perfectly.
In addition to adult sizes, the brand also carries a couple of kids' sizes. However, those do not come with multiple width options.
We like that the brand offers these ballet shoes in multiple color options.
There is the classic pink color that is perfect for fairer-skinned dancers.
People of color may not be too pleased with the pink option, though, so they can choose between the black and white option instead.
Also, in June 2020, a petition from several members of different dance communities asked Capezio to develop more shoes and clothing options for people of color.
Because of this, the company has pledged to deliver a wide range of color options in the fall.
As mentioned earlier, the shoe comes in many sizes and width options, ensuring a brilliant fit for every foot type.
Capezio has taken this one step further by adding an elastic strap on the top.
This strap ensures your foot stays snug and in place throughout your performance.
If that's not enough, there is also a drawstring that provides you with extra stronger hold.
This bar-tacked elastic drawstring hugs the foot for a perfect fit. Moreover, it also adds a touch of elegance to the entire shoe.
Impressive Material Choices
These Capezio ballet shoes boast a premium leather construction that is highly comfortable and durable.
The main goal is to provide the dancer with great support and a ton of confidence, and we believe this shoe does that.
You will also like the full chrome tanned suede leather outsole that further adds to the shoe's durability.
There is a daisy print cotton lining and sock lining on the pink pair, making the shoe more attractive.
Lastly, the shoe features a "This belongs to" satin ID tag.
This can be beneficial when you have to leave your shoes along with other dancers' stuff during training and in performances.
How to Make the Most Out of the Capezio Ballet Shoes
Capezio ballet shoes are a great option for those who are trying to learn ballet.
Then again, we know how difficult it can be to understand ballet shoes if you have never used one or even seen one in the flesh.
To solve that dilemma, we found this video that briefly talks about these ballet shoes and what you can expect out of them.
Also, we've got a very important reminder that we want you to keep in mind.
These Capezio ballet shoes may be the perfect pair for you, but you still have to break them in properly before dancing in them for long periods.
A simple and quick way to do this is by gently stepping on the box. Doing this will flatten it and reduce some of its stiffness.
Since ballet shoes are not shaped for the left or right foot, we recommend marking them to ensure you break in each one the right way.
Alternative
These ballet shoes are not particularly the traditional pointe shoe that professional ballet dancers use.
If that's what you're looking for, we found a perfect pair from the same brand itself.
The Capezio Women's Aria Ballet Shoes is a brilliant option for beginners as well as professional ballet dancers.
There are multiple shoe sizes you can choose from, but what sets it apart from its counterpart is its classic design.
This pointe shoe is built well and has a durable leather sole that offers fantastic traction and stability.
There is also suede lining throughout the shoe, providing an excellent moisture-absorbent and anti-microbial environment.
Conclusion
Mainly due to its excellent fit, use of premium materials, and durability, there's no denying that these Daisy ballet shoes are a great buy. The Capezio brand is always among the best ballet shoes.
It may not be the ideal pair for a professional ballet dancer, but an amateur or young student will truly benefit from this pair.
Furthermore, it is significantly cheaper than several other ballet shoes on the market.
We hope that this detailed Capezio ballet shoes review helps you make the right decision.