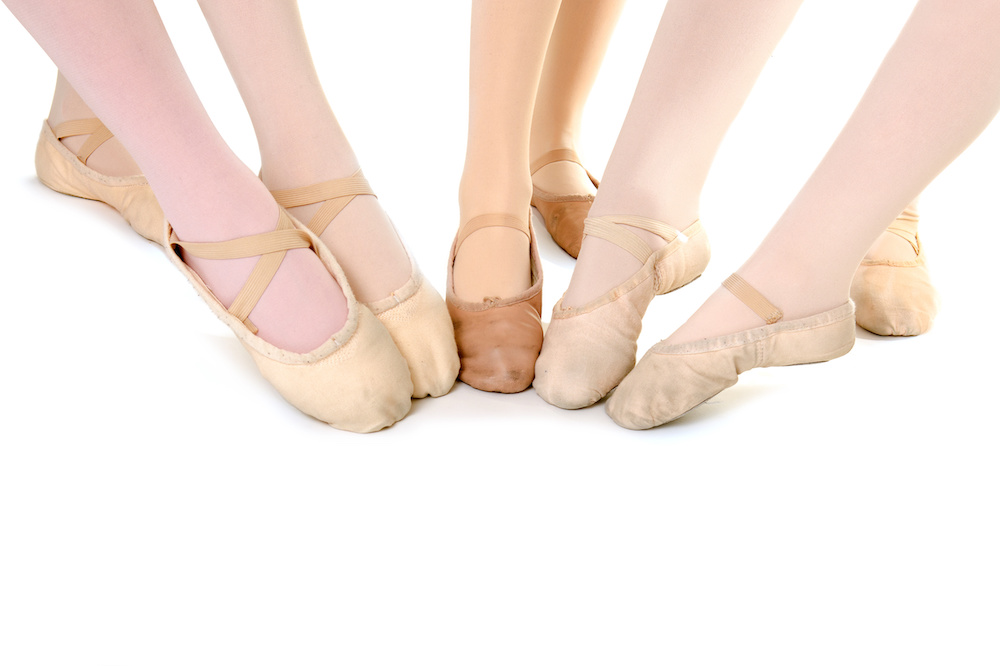 Best Canvas Ballet Shoes of 2021: Complete Reviews With Comparisons
---
<!–googleoff: index–>We may earn a commission for purchases using our links. As an Amazon Associate, we earn from qualifying purchases.<!–googleon: index–>
---
A lot of dancers prefer leather ballet shoes, given their quality and durability.
However, that doesn't mean there aren't any canvas fans out there.
For instance, we personally prefer canvas ballet shoes for their added comfort and flexibility. They are more affordable as well.
If you're also a fan or want to try canvas-made ballet shoes, we found five of the best canvas ballet shoes.
We'll review each of them to help you make a smarter purchase decision.
Comparison Chart
Miss Fiona Women's Canvas Ballet Shoes
Capezio Women's Hanami Ballet Shoes
Bezioner Girls Canvas Ballet Shoes
Baiwu Women's Canvas Split Sole Dance Slippers
Sansha Pro 1 Canvas Ballet Slippers
Best Canvas Ballet Shoes Reviews
1. Women's Canvas Ballet Slippers by MissFiona
MissFiona offers a wide variety of performance apparel and footwear.
They range from sparkly ballroom dancing shoes to strapped Latin dancing sandals.
Today, we'll focus on one of their ballet footwear: the Women's Canvas Ballet Slippers.
It is a pair intended specifically for ballet practice and other physical activity requiring added foot traction, such as yoga.
It is one of the cheapest pairs we have found in the market so far.
Review
The MissFiona Women's Canvas Ballet Slippers comes in nine color variants: blue, green, hot pink, light tan, nude, red, white, black, and pink.
Aside from canvas, the upper material is also made from cotton and suede, making the shoe lightweight and breathable.
Meanwhile, the split sole is made of leather, providing added durability while still preserving the flexibility that the overall shoe design intends.
Finally, the elastics are pre-sewn inside the shoes to ensure that it doesn't snap easily.
Our only complaint is that the MissFiona Women's Canvas Ballet Slippers could look bulky if you don't get the sizing right.
The problem is, the sizing guide provided by the company isn't that reliable.
2. Women's Hanami Ballet Dance Shoes by Capezio
Capezio is one of the pioneers in the industry of dancewear being one of the oldest names in the game.
Founded in 1887 by Salvatore Capezio, an Italian cobbler who migrated to the USA, the company started by repairing shoes worn for theater performances at the Met.
They later on transitioned to shoe manufacturing and slowly gained renown thanks to their excellent craftsmanship.
A lot of celebrities have used their shoes throughout the years, even the legendary Anna Pavlova herself.
It's no surprise that they have numerous ballet footwear collections, especially since these shoes are some of their bestsellers.
Our personal favorite, however, is the Hanami collection. It features jazz and ballet shoes of different materials and designs.
For our review, allow us to focus on one pair: the Women's Hanami Ballet Dance Shoes.
Its price will highly depend on your chosen size. This ranges from affordable to mid-ranged.
Given the premium quality, though, we consider the pair a worthwhile investment.
Review
The Capezio Women's Hanami Ballet Dance Shoe is available in seven different colors: white, black, light pink, nude, petal pink, mocha, and light suntan.
That means there's a shade for any skin color and preference!
It boasts of Capezio's four-way stretch canvas design that allows the material to hug your feet tight as if you're not even wearing anything at all.
The company also used seamless stitching technology to provide further flexibility and support for your form.
Lastly, this pair comes with a split sole and without drawstrings on the top opening.
According to Capezio, drawstrings can run the risk of your shoes coming undone especially during a performance. They simply won't have it.
Unfortunately, even Capezio isn't perfect. This pair, for instance, have a quite problematic sizing guide.
Past buyers recommend going a size up but know that following this recommendation is a risk.
3. Girls Canvas Ballet Shoes by Bezioner
Bezioner's specialties go beyond just dancewear. They manufacture and distribute athletic wear, costumes, and other performance footwear and accessories.
The Bezioner Girls Canvas Ballet Shoes is one of their bestsellers, and for a good reason.
It is an affordable yet comfortable choice for young to adult ballet dancers who need regular practice shoes.
Review
The Bezioner Girls Canvas Ballet Shoes is available in three colors: light pink, pink, and black.
It is made of canvas with a soft and breathable cotton lining.
It's designed with a leather split-sole to ensure optimum freedom of movement.
Those who don't like drawstrings will be pleased that this pair won't come with any.
It has a stretchable top opening but don't expect it to be adjustable.
Our main issue with the Bezioner Girls Canvas Ballet Shoes is the confusion that their color variants may cause.
By light pink, they don't really mean pink. It's actually a tan color.
4. Canvas Ballet Slippers for Women and Girls by Baiwu
Baiwu specializes in manufacturing and distributing ballet essentials, from leotards to costumes and from accessories to footwear.
Having been founded in Beijing back in 2008, Baiwu's products are now available through various online marketplaces.
We have noticed, though, that they only distribute their ballet shoes to online sellers.
You can only find most of their products through their main web store.
Their Canvas Ballet Slippers is very affordable and comfortable, making it perfect for regular practice.
To be honest, Baiwu markets this pair as something suitable for stage performance.
That probably depends on your role or preferences since it doesn't have that "wow" factor compared to other performance-quality pairs out there.
Review
The Baiwu Canvas Ballet Slippers is available in four color variants: black, pink, tan, and white.
The main body is made of soft, breathable canvas.
The top opening comes with stretchable elastic and pre-sewn criss-cross straps.
Much like the previous pair, the Baiwu Canvas Ballet Slippers won't come with drawstrings, making it more convenient to use.
However, it could loosen over time. This is probably why Baiwu made the elastic too snug that some dancers may find uncomfortable to use out of the box.
5. Pro 1 Canvas Ballet Slippers by Sansha
Sansha might be more known today as the leading brand in designing tap shoes.
Many people don't know, though, that it was the founder's unique split-sole ballet shoe design that allowed the company to really take off when it was founded way back in 1982.
Fast forward to the present date, Sansha now offers shoes and apparel suitable for all dance genres and related athletic needs.
If we're going to feature one of their products, though, then it has to be the best.
That's why we have chosen their Pro 1 Canvas Ballet Slippers.
This pair is made in the original split-sole design the company made in 1982; this is an iconic pair well-loved by both professional and beginner dancers.
We are not surprised that these shoes require quite an investment given the premium quality and history.
Not to mention that they have the "wow" factor that we were referring to earlier about shoes meant to be used for stage performances.
Review
The Sansha Pro 1 Canvas Ballet Slippers comes in five different color s: black, flesh, white, light pink, and gray.
The light pink variant is actually closer to a pale nude color. The company designed their colors this way to match most skin colors.
The body of the shoes is made of 100% lightweight canvas that is double-lined for added durability.
It also comes with an adjustable drawstring to ensure a snug fit for its top opening.
Lastly, the elastics are not pre-sewn, so you need to learn how to attach them before purchase.
It seems quite inconvenient, but it is actually more comfortable to have control over how tight or loose your elastics are.
The only downside to the Sansha Pro 1 Canvas Ballet Slipper is its fame.
It is so popular that there are knock-offs in the market already. Make sure to purchase from a trusted seller only.
Final Recommendations
We were able to feature a balanced variety of the best ballet shoes, from premium ones made by iconic brands to affordable yet still quality pairs.
We love all of them; otherwise, we wouldn't feature them in this line-up of the best canvas ballet shoes in the first place.
However, there are two pairs in particular that we deem our favorites.
The first is the Women's Hanami Ballet Dance Shoes by Capezio. It's hard to ignore a brand that even Anna Pavlova used, but beyond that, we also appreciate it for its wide range of colors and premium quality.
Our second choice is the Women's Canvas Ballet Slippers by MissFiona.
Again, it has a wide spectrum of colors to choose from that can brighten up any rehearsal.
It is also affordable enough not to make you worry about wearing it down through frequent use. You just need to make sure to get the right size for a more fit snug.