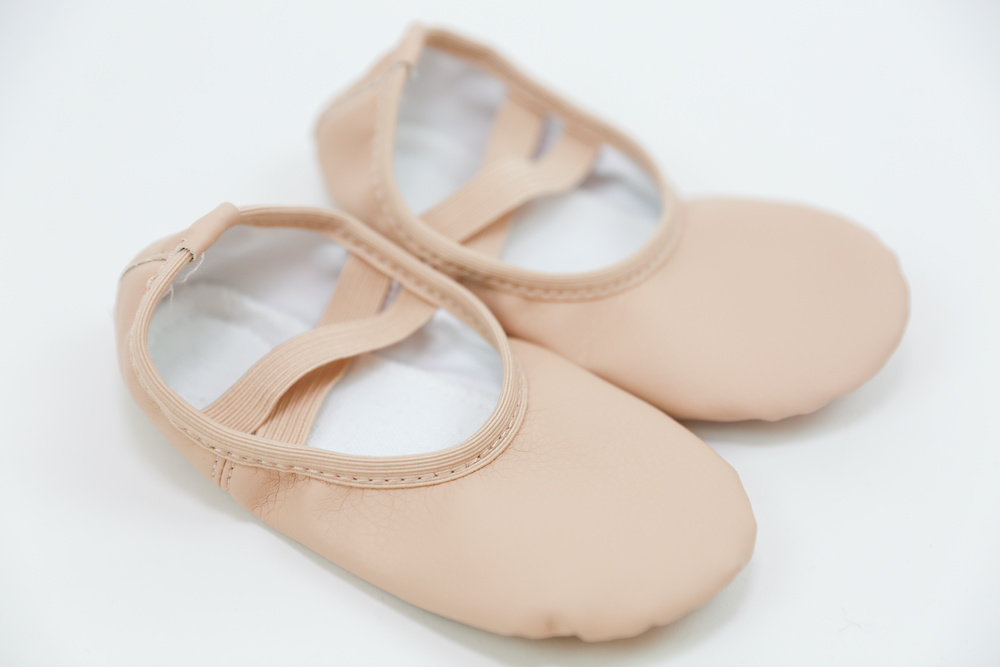 Best Ballet Shoes For Toddlers of 2021: Complete Reviews with Comparisons
---
<!–googleoff: index–>We may earn a commission for purchases using our links. As an Amazon Associate, we earn from qualifying purchases.<!–googleon: index–>
---
Ballet is a brilliant hobby for young girls and boys. It teaches them grace, poise, discipline, and hard work.
Before you sign them up for their first ballet class, you will need a good pair of toddler ballet shoes to get them started.
What are the considerations that need to be made before buying children ballet slippers?
We found five amazing pairs of the best ballet shoes for toddlers and reviewed them in detail for you below.
Comparison Chart
Dynadans Soft Leather Ballet Shoes
L-RUN Woman Ballet Shoes
Nexete Ballet Dance Shoes for Toddlers
Ruqiji Canvas Ballet Shoes
STELLE Leather Ballet Shoes
Best Ballet Shoes For Toddlers: Brief Reviews
1. Dynadans Soft Leather Ballet Shoes
Dynadans is founded by Na Dan. Dan is a shoemaker from a small town in China.
In 1996, after making a pair of jazz shoes for a dancer, more and more dancers wanted to get dance shoes for themselves.
That success led to the opening of her first store in 2000, which then started selling its products in the American market in 2018.
Ever since then, their shoes have become supremely popular for their fantastic quality and affordable pricing.
The ballet shoes for toddlers from this brand are among the best ones on the market right now.
Review
The Dynadans Ballet Shoe is a soft leather shoe designed for young children interested in ballet dancing and gymnastics.
The shoe's material makes it highly comfortable and durable.
And the textile lining further increases the comfort level and makes it long-lasting, too.
If that is not enough, the material is also highly breathable and flexible.
These toddler ballet shoes comes with a light and flat heel, along with a split-sole design made from durable and anti-abrasive suede.
This combination offers your little dancer a sure grip and support, keeping them safe and stable.
The shoe comes with elastic straps instead of a drawstring.
This makes the shoes easier for your kid to put on and off themselves, making it convenient for you, too.
While these shoes are marketed as ballet shoes, you can also pick them for your kid if they are interested in other dance forms, like modern dance, ballroom, and the like.
Size-wise, the shoe is available in a plethora of sizes for young kids and toddlers.
You can choose between colors, like black, pink, and nude. Do note that the nude color here is made for light-skinned individuals.
2. L-Run Canvas Ballet Dance Shoes
Any high-quality and well-designed shoe will make any person comfortable and feel stylish. And that's what L-Run aims to achieve with its shoes.
These children ballet slippers have one of the best materials used on the market, and even their design is unique, too.
Adding the fine workmanship, and you are left with a pair that will be your kid's favorite for a long time.
There's no denying that this pair of ballet shoes from L-Run is brilliantly made.
Review
These shoes are made from high-quality, soft, lightweight, waterproof, wear-resistant, and durable canvas.
The great thing about this combo is that it is highly breathable, making the shoes extra-comfortable to wear.
What's more, the skid-resistant rubber sole makes it safe for your child to use.
The shoes come with a high-quality, comprehensive lining capable of absorbing sweat.
There is also a short heel, which makes the shoe look elegant and yet keeps it comfortable.
While the shoe is completely washable, it is not recommended to wash it in a washing machine. Instead, hand-wash it with a mild detergent.
What truly made us like this shoe is the plethora of color options available.
Unlike most ballet shoes available in three or four colors, you can choose between eight different hues.
Some of them are classic colors, like black, white, and light pink. The others are bold colors, including red, pink, blue, green, and so on.
The shoe is also available in various sizes meant for toddlers, little kids, and even young adults.
3. Nexete Ballet Shoe
If you are looking for a budget-friendly pair of ballet shoes for toddlers, we recommend checking this pair from Nexete.
The brand was founded almost a decade ago and is based out of Ohio. It is known for its excellent quality of materials and for how well its shoes perform.
This pair of ballet shoes has some excellent features but doesn't break the bank.
Review
Whether you want your kid to participate in ballet, gymnastics, or modern ballroom dancing, the Nexete Ballet Shoe is the perfect pair to get.
It is made from PU, and the sole is made of leather.
This sole makes the shoe slip-resistant, which keeps the child safe while they practice or perform.
The overall design of the shoe is also great. It is quite comfortable and at no point will squeeze or pinch your child's toes.
There is a cotton lining present in the shoe. This further enhances the overall comfort level and does a great job of absorbing the sweat.
To keep your child's foot secured in the shoe, there is a pre-sewn elastic band in a crisscross formation.
If that's not enough, the shoe also comes with a drawstring, offering more of a secure fit.
In terms of the colors, you can choose from a variety of different ones, ranging from gold and silver to pink, rose gold glitter, and gold glitter.
Sizing-wise, there are multiple sizes for little kids, big kids, and toddlers.
If you like the shoe yourself, you can choose one from the adult sizes.
4. Ruqiji Ballet Shoes
Ruqiji is a brand devoted to producing some of the best quality ballet shoes.
The brand is backed by more than two decades of experience in professional dance and ballet shoemaking.
What's more, all of its products are designed according to human engineering.
Each pair integrates the performance of wear, comfort, health, and overall look.
Review
The Ruqiji Ballet Shoe is a beautifully designed pair of dance shoes with a cotton canvas surface and a padded leather sole.
The material makes the shoe extremely comfortable to the touch and also breathable. Furthermore, it is also pretty easy to clean.
The sole, on the other hand, is wear- and skid-resistant. This makes it ideal for performances or when your child is practicing his or her dance routine.
We particularly like the thick cotton lining in this shoe. There is a perfect amount of it, and it does an excellent job of absorbing sweat.
Additionally, it also makes the shoe very comfortable.
For a more perfect fit, the company has featured pre-sewn elastic bands and a drawstring on this shoe.
Together, both of them do a great job of making the shoe fit better and more securely.
These ballet slippers for toddlers are available in classic colors, like light pink, black, and ballet pink.
It is also available in multiple sizes for toddlers, little kids, and big kids.
Lastly, the company offers a money-back guarantee on these shoes.
This lets you get your investment back in case you are not satisfied with the shoes.
5. Stelle Premium Ballet Slipper
Based out of the San Francisco Bay Area, Stelle is an American company founded by a mother of three girls.
The company is well-known for making high-quality products sourced by partnering with the world's best and ethical factories.
Review
The last ballet shoes we are reviewing is from the famous shoe brand Stelle.
This is made from a premium leather upper as well as a leather sole.
In return, you get a high-quality leather upper that feels great to the touch and is lightweight.
The leather sole offers the shoe excellent durability and keeps it from skidding, either.
The shoe comes with a single elastic strap pre-sewn into the shoe for a more secure fit.
In addition, there is also a drawstring to further tighten the shoe to the feet.
To match your kid's style, the shoe comes in three different colors: ballet pink, light pink, and black.
Stelle also provides the same three color options without the drawstring.
In terms of the sizing, you will find that the shoe comes in multiple size options for little kids, big kids, and toddlers.
Conclusion
We hope that the reviews of these best ballet shoes for toddlers have given you the information you need to pick the perfect pair for your little one.
While all of these are great options, there is one that particularly caught our eye, and that is the Stelle Premium Ballet Slipper.
For starters, this ballet shoe is made by a famous brand known for creating some of the best dance shoes.
This pair, in particular, is made using premium leather. This, itself, makes the shoe amazing.
Add to that the perfect fit, beautiful design, and outstanding construction, and all of it together makes this a great buy.
Indeed, this could be the best ballet slippers for toddlers you could get for your kid.