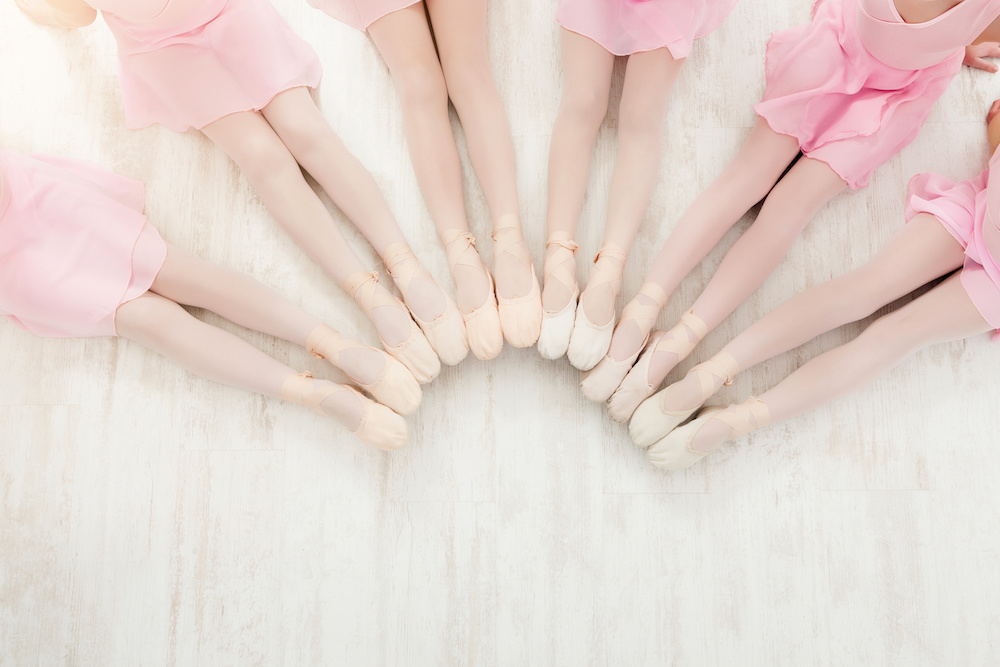 Best Ballet Shoes for Adults of 2021: Complete Reviews With Comparisons
---
<!–googleoff: index–>We may earn a commission for purchases using our links. As an Amazon Associate, we earn from qualifying purchases.<!–googleon: index–>
---
Ballet shoes are lightweight footwear specifically designed to provide better form and freedom of movement.
They also ensure the dancer's safety, giving support and traction where it is needed.
Indeed, these shoes are essential to any ballet dancer, so they're a lot of brands and models available in the market.
To help you find the right pair for you, we'll feature five of the best ballet shoes for adults.
Aside from that, we'll share a quick glossary of terms explaining the features included, in hopes of helping you make a more informed purchase.
Comparison Chart
Bloch Women's Performa Dance Shoes
Danzcue Pink Ballet Slippers
Adult Leather Split-Sole Ballet Shoes
Linodes PU Leather Ballet Shoes
Dance Basix Leather Ballet Shoes
Best Ballet Shoes for Adults: A Review
1. Women's Performa Ballet Shoes by Bloch
Bloch is a household name when it comes to crafting quality dance shoes.
Having founded way back in 1932, they take pride in their pointe shoes and ballet flats一footwear both used in the art of ballet.
They have an extensive selection of dance shoes, but the collection we'd like to focus on is Performa.
It includes three main variants: children's, men's, and women's (the pair that we'll review today).
Its price will depend on the size you'll get, but we have found it's priced mid-ranged in general.
You can even consider it affordable given the premium quality of their footwear.
Review
This pair is available in six color variants to match any skin tone, such as black, cocoa, coffee, sand, theatrical pink, and white.
Certain distributors don't have all the colors available, though, so we recommend checking their main website if you're looking for a particular shade.
The Bloch Women's Performa Ballet Shoes is made of a soft, stretch canvas material, making it more flexible and comfortable to use.
It also comes with a leather split sole for a more graceful arch.
We love the shock-absorbing feature of its heel cushioning since it provides added safety and support to its user.
There are two points that we don't like about the Bloch Women's Performa Ballet Shoes, though.
First, we have found the pre-sewn elastic too tight. It can get quite uncomfortable to wear, especially out of the box.
Aside from that, we have also found their sizing quite unreliable. Even by following the size guide provided, their pair can still end up too big.
Some of their past buyers recommend getting size and a half down, but it's still a risk.
2. Adult Ballet Slippers by Danzcue
Danzcue is another brand that specializes in dance gear. Their products can be divided into three categories: dancewear, cheerleading gear, and dance dresses.
Their ballet shoe selections are part of their dancewear, and other products in this category are jazz shoes and leather dance booties.
One of the things we really appreciate about this particular pair of footwear is its affordability.
It is not as expensive as other pairs of the same quality from other brands.
Review
The Danzcue Adult Ballet Slippers is available in three color variants: pink, white, and black.
It's made of premium quality yet lightweight leather with a suede split sole and pre-sewn elastic straps.
We enjoy using canvas ballet shoes because of their softness and flexibility, but we recognize that they can get easily worn out if you practice frequently.
Hence, those who are looking for a more durable pair can try these leather slippers instead.
Other features of the Danzcue Adult Ballet Slippers include an adjustable elastic cord around the upper shoe and an elegant heel design.
It will allow you to adjust the fit until you deem it comfortable.
Meanwhile, the heel design accentuates your feet's form, making them look effortlessly graceful.
The only thing that we didn't really like about the Danzcue Adult Ballet Slipper is related to its sizing.
If the previously featured pair tend to arrive a size bigger than expected, Danzcue's pairs can sometimes feel too tight.
Thus, some of their buyers recommend ordering one size up.
3. T2700 Adult Ballet Shoes by Theatricals
Theatricals offer a variety of dance footwear other than ballet shoes, such as tap shoes, leather dance shoes, and jazz shoes.
We have noticed that most of their dance footwear pairs are very budget-friendly.
Even the pair we'll feature today is significantly more affordable compared to other brands.
Review
Unfortunately, the Theatricals T2700 Adult Ballet Shoes is only available in pink.
It is made of ultra-flexible yet durable leather material and comes with a suede and cotton lining and pre-sewn elastic.
The design of this pair is very traditional and classic. We also appreciate how durable it is.
Hence, we highly recommend it to ballet students or those in need of a pair specifically for training.
The only major downside to the Theatricals T2700 Adult Ballet Shoes, though, is the elastic's location.
We find it awkwardly digging into our heels, making them quite uncomfortable, especially when used in extended hours of training.
If you really enjoy wearing this pair despite the ill-fitting elastic, then allow us to share with you a quick tip.
You don't always have to endure pre-sewn elastics. You can readjust and re-sew them again.
We only recommend this to more experienced dancers, though.
If you're not comfortable cutting and sewing your straps, then don't attempt to cut them.
4. PU Leather Ballet Shoes by Linodes
This list will never be complete without mentioning the current #1 bestseller in the Women's Ballet & Dance Shoes category on different online platforms. That definitely says something about the company!
Aside from ballet shoes, this company also offers leather jazz shoes, patent tap shoes, and other dance footwear accessories.
The pair of PU Leather Ballet Shoes by Linodes are ballet shoes specifically marketed for women and girls. Thus, you can expect a wide range of sizes.
We love how affordable it is amidst the features that we'll talk more about below.
Review
The Linodes PU Leather Ballet Shoes comes in three color variants: black, nude (or ballet pink), and pink.
Its material is made of polyurethane (PU) leather, a human-made, synthetic, so it's considered vegan.
Please don't think that this pair is completely vegan, though. Its outsole is made out of suede, after all.
Anyway, PU leather is less durable than leather, but it is treated with special chemicals to give it water and sweat-resistance.
Aside from that, PU leather is also known for its breathability and weightlessness, especially when compared to genuine leather.
Another thing that we love about the Linodes PU Leather Ballet Shoes is that it comes with a free return guarantee.
The only negative thing we can say about it is it comes with a full outsole.
Hence, those who are used to wearing split sole may find it awkward to wear.
There's nothing wrong with using full-soled shoes, though; in fact, they provide better foot support.
The only reason most people prefer split-soled ballet shoes is the freedom of mobility it provides.
5. Leather Ballet Shoes for Women by Dance Basix
Staying true to its name, Dance Basix offers basic dancewear that anyone would enjoy using during practice.
That includes classic dance shoes, athletic apparel, and of course, the Leather Ballet Shoes for Women.
It is also worth noting that most of their products come in neutral designs and colors.
For instance, the Leather Ballet Shoe for women only comes in three color variants: ballet pink, black, and white.
It is priced affordably, making it a great option for students.
Review
The Dance Basix Women's Ballet Shoes is made of 100% leather, making it very durable.
Its elastic strap is pre-sewn, but it also comes with adjustable ties at the front, allowing you to tweak the fit as needed.
As for its sole, it comes with a full suede sole that ensures optimum traction and support.
Our main complaint, though, is it can be quite tricky to get the size of the Dance Basix Women's Leather Ballet Shoes right.
We have noticed that their sizing can be too small. Past buyers recommend getting two sizes up.
A Quick Glossary of Ballet Shoe Terms and Features
For the benefit of beginner ballet dancers, below are the different terms and features we have mentioned above and what they mean in relation to your dance performance and to help you choose the best ballet shoes.
Soles
There are two types of ballet shoe soles: split soles and full soles.
As the name suggests, a split sole is a type of outer sole design split in the middle of the shoe to allow a better arch and a wider range of movements.
The main problem with this type of ballet shoe sole is it doesn't provide a lot of support.
On the other hand, a full sole is a type of outer sole that is not split in the middle, making it similar to regular shoe soles.
It can sometimes limit your movements, especially when making an arch.
However, it does provide additional traction and support for beginner dancers.
Material
There are three different ballet shoe materials mentioned above: stretch canvas, leather, and PU leather.
Stretch canvas is the softest and most flexible. It's very comfortable to use and can even help you give a better performance.
Leather is definitely more durable than stretch canvas, making it ideal for frequent use, such as during regular practice.
It can feel quite heavy and unforgiving, but it will eventually get softer with use.
Finally, those who are looking for a vegan alternative will appreciate PU leather.
It also provides the balance between the flexibility of stretch canvas and the durability provided by leather.
Top Opening
There are two types of top openings for ballet shoes. Most of the pairs that we have featured above, though, have adjustable elastics.
Elastics allow you to tweak the fit of your ballet shoes according to your personal preferences.
The only drawback is you might have to tuck the excess string within your shoes.
It can then potentially cause discomfort, but you can avoid it by trimming it down, as long as you're confident about your sewing skills.
On the other hand, some ballet shoes come with really tight elastics giving your pair a tight fit.
The problem with this kind of top opening is it can be quite uncomfortable to use out of the box and eventually loosen over time.
Ankle Elastics
Another kind of elastic equipped into ballet shoes is ankle elastics, which are the straps that further ensure your shoes' fit.
They can either come pre-sewn or not. The charm of pre-sewn elastics is that they are ready for use.
They can cause discomfort, though, if they are sewn in too tight or in an awkward angle that doesn't agree with your specific feet shape.
On the other hand, unsewn elastics are more comfortable but would require skill and experience to attach.
Don't worry; there are tutorials online on how to do so.
Final Recommendations
Now that we have presented you with the best ballet shoes for adults, the question is, which one should you get?
It will all boil down to your needs and preferences. We have provided two different types of soles and styles.
Those of you who need a pair you can use for something other than regular rehearsals would appreciate the color variants provided by the Bloch Women's Performa Ballet Shoes.
It is not very durable, so you have to use that pair sparingly, but it does support better performance with its flexibility and split sole design.
Meanwhile, those who are looking for rehearsal shoes would enjoy using the Danzecue Adult Ballet Slippers.
This pair is very durable and can withstand long practices. It is also split-soled, so you don't have to worry about being hindered by your movements.