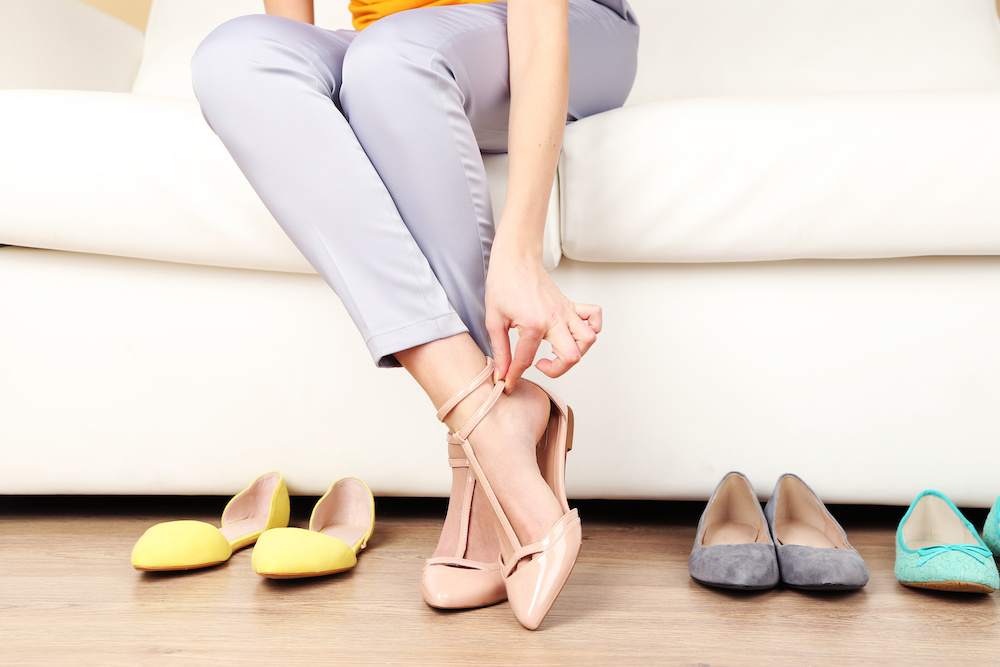 Best Ballet Flats With Straps in 2021: Complete Reviews With Comparisons
---
<!–googleoff: index–>We may earn a commission for purchases using our links. As an Amazon Associate, we earn from qualifying purchases.<!–googleon: index–>
---
There is no denying that ballet flats are cute and all, but not all pairs fit securely on the feet.
If you want something that would stay on even as you walk for miles and miles, you want something with straps.
The best ballet flats with straps offer a more convenient alternative to fiddly laces.
You will find the shoe market saturated with hundreds of pairs from which you can choose.
To help with your dilemma, we checked out five pairs and put them to the test.
Comparison Chart
ANNA Dana Women's Classic Ballerina Flats
Alpine Swiss Peony Women's Ballet Flats
Gentle Souls by Kenneth Cole Women's Bay Flats
Jessica Simpson Women's Mandalaye Ballet Flats
Jambu Women's Rumson Too Ballet Flats
Best Ballet Flats With Straps: Brief Reviews
1. ANNA Dana Classic Ballerina Flats With Crossing Straps
These budget-friendly ballet flats from ANNA are gorgeously feminine yet durable at the same time.
They will easily add a touch of style to any outfit you wear but also ensure you have a reliable pair to last you many uses.
Review
Let's jump straight in and take a look at some of the reasons why these ANNA ballet flats are well worth the investment.
This pair takes the classic round-toe ballet flats to another level with the addition of an ankle strap that crosses over in the front.
The back of the ankle is raised higher than a normal ballet flat to accommodate the strap comfortably.
To add to that, a zip runs up the back of the foot to secure the shoe onto your foot.
The shoes look well made, too. Although the materials aren't the highest in quality, these shoes will last longer than some others.
We love the fact that you can choose from 28 different colors and materials to help match it with your style.
We were worried that the zip would be uncomfortable and dig into the back of the foot, but it doesn't at all.
However, it does seem to get stuck from time to time, so you will have to give it a yank to get it going.
Even so, you will like that the footpad is slightly padded.
Because of this, the whole shoe feels extra-soft, making it comfortable to wear for extended periods.
The elastic ankle strap is stretchy and doesn't feel too tight either.
These shoes are available in 10 different sizes, but the sizing seems to be inconsistent.
As such, it might take you a couple of tries before finding the right size.
Thankfully, you will find that returns are easy and hassle-free. And once you have the right size on your feet, you'll never want to take them off.
These shoes would be great for people with average or wide feet, as they are slightly wider than most ballet flats we've seen.
Unfortunately, this means they won't suit someone with narrow feet, as they will probably be too roomy and flappy on the sides.
2. Alpine Swiss Peony Slip-On Ballet Flats
Alpine Swiss is an emerging lifestyle brand based in California.
The brand has a long list of footwear choices on offer, but these slip-on flats, in particular, are perfect for those looking for casual comfort.
Review
Here are some of the features that stood out to us when reviewing these ballet flats.
Like most other ballet flats, these Alpine Swiss flats feature a feminine round toe, as well.
This time, though, the ankle strap is held in place by another strap fixed to the back of the shoe.
You will love that you get to choose from 10 color options, and the shoes are priced reasonably.
Immediately after wearing it, you will notice that the entire shoe is softer than the previous pair because there's no stiffness from the zip.
You just slip these shoes onto your feet while holding the elastic out, and you're good to go.
Unfortunately, there seem to be some problems with manufacturing, as the quality is rather inconsistent.
Sometimes, the heels dig in and need a little extra padding, at least until they've been broken in.
Because of this, you might have to invest in a heel pad from the drugstore.
Some pairs also turn up with glue showing or just look a bit messy.
If this happens to you, you can just as easily return and reorder them because the brand offers excellent customer service.
These shoes only come in seven sizes, and they run small; you will probably need to round up if you are a half-size.
They are also not for people with wide feet. Hence, if you need a wide shoe, you're better off checking out another pair.
The padded insoles guarantee comfort, and you'll find that they are a lot thicker than what many would expect from ballet flats.
These high-quality insoles definitely have room for your foot pattern to sink in over time, offering supreme comfort.
Supports a Charitable Company
It's nice to know that Alpine Swiss does a lot to help the charity "Children's Hunger Fund."
From 2014 until today, it has donated 3.8 million meals to help ease children's hunger.
If we really can't decide between two products, having info like this can help make a decision one way or another.
After all, who doesn't like to support companies that help communities?
3. Gentle Souls by Kenneth Cole Women's Bay Unique Flats
Kenneth Cole is an American fashion house established in 1982.
Compared to others, its Gentle Souls brand provides shoes and sandals with organic comfort.
If you have the budget and you're looking for flats that offer outstanding support, these ballet flats will suit you just fine.
Review
Let's take a look at why these shoes from Kenneth Cole are worth the extra money.
These ballet flats are more expensive than the previous two options. Still, it's easy to see why that's so when you consider the materials used.
These feature feminine, rounded toes, crisscross ankle straps, and a zip that runs up the back of the shoes.
Because of how effortlessly stylish they are, they will add an artistic flair to your entire wardrobe.
There are only eight different colors and materials to choose from, which might not be enough for some women.
Even so, each different option is exquisitely styled with premium materials.
The grey suede shoes boast a 100% suede build, and the black leather pair is soft deerskin leather.
It goes without saying that these shoes are not suitable for vegans or anyone against animal cruelty, but they are highly durable.
Do you find it hard to look for flats that fit your feet well? With these Kenneth Cole pair, you won't have that problem.
Available in 12 different sizes, you can easily get a pair that will hug your feet in all the right places.
Gentle Souls have full and half sizes to suit almost everyone, too. And because they are true to size, you shouldn't have to mess with returns.
Supportive and Comfortable
When it comes to comfort, you will find that this pair features flexible soles and leather lining.
They are light and breathable, which stops your feet from sweating uncomfortably in the summer.
What's more, the patented displaceable solid technology in the insole creates unique cushioning and extra support.
There is also the non-marking outer sole, which ensures these shoes are safe to wear in the gym and studio.
4. Jessica Simpson Mandalaye Ballet Flats
These Mandalaye shoes are style-approved by Jessica Simpson.
They are perfect for those looking for great quality ballet flats with a squared-off pointe.
Review
Let's take a look at some of the standout features of these unique flats.
With their squared-off toe box, these ballet flats are strikingly different from all of the other pairs on this list.
They imitate a real pointe in a ballet shoe and add a touch of unique style to any outfit.
The problem is, the ballet pointe style tends to truncate bulkier legs.
Therefore, if you are looking for something more slimming, you should opt for pointed toes instead.
These flats are available in 12 different sizes, and they fit true to size. As such, almost every woman should be able to find their perfect fit.
We say almost everyone because they are a little narrow, making them an unsuitable choice for ladies with even slightly wider feet.
Like the Alpine Swiss pair, putting these shoes on is also simple. You only need to slip your foot in as you tug the elastic up onto the ankle.
The ankle straps are either tighter or less elasticated than the others on this list. Because of this, they may leave marks around the ankle on some women.
That makes these shoes only viable for people with slimmer ankles, as well as narrower feet.
If you are lucky enough to have narrow feet and slim ankles, you'll find that these flats are very comfortable to wear.
They have a nicely padded sole, and the upper materials are so soft that they don't rub your feet.
They do come with a heftier price tag, as expected with the Jessica Simpson name, but they are consistently well made.
Lots of Color and Style Options
We love the fact that they come in so many different color and material options, with no less than 33 different patterns and designs.
This gives you so much opportunity to find the perfect color match with your favorite dress and the right material to compliment your style.
They also have some gorgeous print options that will immediately add a touch of flair to a casual denim outfit.
5. Jambu Rumson Too Ballet Flats
Jambu designs shoes with fashion and function in mind.
As you will see for yourself, these ballet flats provide individual style without compromising on comfort.
Review
Let's take a look at some of the innovative features of these ballet flats from Jambu.
This pair is slightly different from all the others on this list, offering a unique style that you will love.
First off, it has a pointed toe, so it is extremely flattering and slimming on your feet.
Like the others, though, it also features ankle straps.
Where it stands out is that the straps are made from elasticated satin, which adds a touch of elegance to the shoes.
The crisscross strap is also replicated towards the front of the foot, adding more detail to its classic lines.
It is available in four colors, which is a shame. Even so, the colors are muted, making them easy to match with any outfit.
These Rumson Too flats feature a contoured memory foam footbed.
Teamed with a small heel, they provide a level of support that most ballet flats lack.
This combination makes them supremely comfortable to wear even for long periods.
The problem is, you might not have the same experience if you have slightly wider set toes.
The pointed toe on these shoes can feel a little cramped for some.
However, if you don't usually have any problems with this style of footwear, you should be fine.
The ankle strap is also comfortable, although it might be a little loose. You might need to have it altered for a more secure fit.
These shoes feature 100% leather and textile construction, making them tough and durable as well as beautifully made at the same time.
The outsoles are "All Terra Traction" partially recycled, compressed rubber that ensures superior traction, even on wet surfaces.
This type of sole is also non-marking, making them ideal to wear in the gym or studio.
Which Is the Best Pair?
The best ballet flats with straps will ultimately depend on your priorities when it comes to purchasing footwear.
Are you looking for the cutest ballet flats, the most affordable, or the most comfortable?
If you ask us, our favorite overall is the pair from ANNA. We love the fact that you have so many color options.
And because they are so affordable, you can just as easily treat yourself to more than one pair.